A Rs 9.3 billion concessionary loan from the Asian Development Bank (ADB) is helping the Sri Lankan Government to rehabilitate roads connecting the Southern Expressway. The total estimated cost for rehabilitation of these roads is Rs 11.6 billion, with the balance coming from the Government. Six access roads are expected to be rehabilitated under the above project, a joint Government-ADB press release said.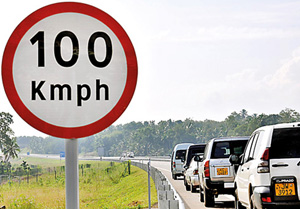 These rehabilitation works are crucial to improve the connectivity of roads and to realize the full potential benefits from the expressway. Rehabilitation work of the identified road sections will be carried out under the 2nd phase of the ongoing National Highway Sector Project (NHSP) which commenced in 2007 with the aim of rehabilitating 270 km of national highways and improving the transpot sector regulatory framework.
Under the second phase of the National Highways Sector Project, 62 km of national highway road sections on Matara – Akuressa (3.40 km), Hikkaduwa – Baddagana (14.34km), Horana – Aguluwatota – Aluthgama (23.48 km), Katukurunda – Naboda (2.72km), Kirulapona – Godagama (5.33 km) and Colombo – Horana (12.7 km) are to be rehabilitated. These selected six road sections usually experience high traffic volume. "…the rehabilitation of these six road sections will facilitate easier access to the new expressway while improving the transport efficiency of the national highways network," the statement said.
ADB plans to promote multimodal transport systems to ease road congestion and reduce pollution and extending financial assistance for this project was a major initiative towards this end, Rita O'Sullivan, Country Director of ADB's Sri Lanka Resident Mission told the Business Times. She added that according to ADB's Country Partnership Strategy, "ADB's involvement in developing an effective Public-Private Partnerships (PPPs).enabling environment will provide synergies between ADB's assistance for infrastructure development and private sector development." She noted that driving on Sri Lanka's southern expressway was a new experience for Sri Lanka's motorists and they will get accustomed to it soon.
Around 5,000 vehicles on average are daily using the southern expressway, an official of the Road Development Authority said. Daily revenues from tolls charged from motorists using the southern expressway is around Rs1.5 million, he revealed. On weekends, the number of vehicles using the expressway, is around 10,000 a day, he said.
Meanwhile a luxury bus service will commence from next year on this expressway, he revealed. Four 48-seater buses will be deployed by the Sri Lanka Transport Board as an initial step. According to traffic police, motorists who use the expressway should strictly adhere to the rules and regulations related to the expressway. Some motorists and passengers travelling in vehicles have been found parking their vehicles on the way and enjoying the beautiful surrounding of the road, which is an offence.
A penalty of Rs. 5,000 will be imposed on such offences, police said adding that all activities on the road are closely monitored by CCTV cameras.