Sri Lanka Tourism (SLT) this week welcomed the 800,000th tourist in year 2011 at the Bandaranaike International Airport. A team of tourism officials headed by the Chairman of Sri Lanka Tourism Dr. Nalaka Godahewa and Managing Director Rumy Jauffer with a group of representatives from travel and tourism Industry warmly welcomed the guest Mr. John Chambi and Ms. Nadia Chambi arrived from London.
This is the first time ever the tourism industry has exceeded 800,000 arrivals in any given year.
SLT offered a special gift and a complimentary package to the tourist couple to visit country's well- known attractions. Last year the total number of tourist arrivals was 654,476 while this year has seen a spurt in arrivals from India, Japan, Germany, U.K, France, Netherlands, Italy, and the Middle East.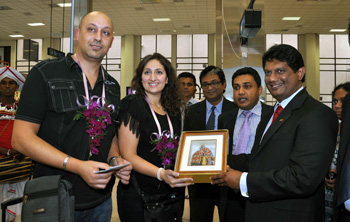 The lucky couple