EMBILIPITIYA - Driven by a passion to produce good healthy food, a Sri Lankan company is moving in a big way to create large plantations of luscious and juicy mangoes. For a very good reason too! For instead of flowers or sweets (chocolates), why not take mangoes (or for that matter, fruits) especially when visiting a patient in the hospital or as a gift to a young person because it is a health food that can be eaten at any age?
Nelna, reputed for its chicken with Nelna Farm (Pvt) Ltd -part of the Nelna Group, has ventured into agriculture and heavily promotes mango growing. Nelna Mango is a specialty in itself, which was developed in their labs – a combination of Kartha Colomban, Vilard and Indian Alponso genes.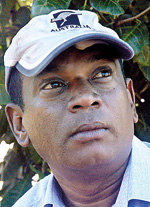 E. G. Nanayakkara. Pix by Saman Kariyawasam
One fruit of Nelna mango weighs around 500 grams and when ripen gives a dark yellow colour. The fruit is fleshy and the seed is comparatively small. The mango plants are nurtured to grow short – a maximum height of around 10 ft and all fruits are plucked by hand.
Nelna mango growing is a very ambitious project and given the task, it is also risky. A team from Business Times was at hand last weekend to see this production process and toured Embilipitiya, Thalawa and their environs where Nelna grows their own variety of mangoes in five plots in these areas amounting to around 160 acres. E G Nanayakkara, Managing Director, Nelna Group and its Marketing Head, Wasantha Warusapperuma accompanied the team and spoke of how the Nelna brand of mangoes has reached the top of the market and how they would be progressively exported.
Mr Nanayakkara while explaining as to how meticulously he has built his group of companies, said that he now concentrates on how mango growing can be expanded to provide employment, to provide the nation a health food, adhering to all international norms, and an large export market.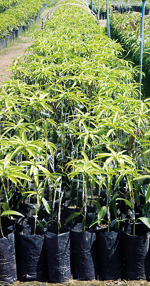 He said that he first worked for several poultry producing companies and then started on a small scale his own poultry farm which churned out Nelna Chicken – a brand now well established in the market,
He said that he has started growing mangoes around four years ago. He said that a Kartha Colomban tree during a period of 14 years averages only 35 fruits (a year) but the variety that they have developed in their labs gives a large number of fruits throughout the year and is not seasonal.
In their 160 acres in and around Embilipitiya at present there are 86,000 mango trees and by the end of this year it will be expanded to 100,000 trees. Nelna is now processing 500 acres of land in Wellawaya to grow their special variety of mangoes to obtain five million mangoes per year. Currently half the yield of mangoes is sold in all the leading supermarkets in Sri Lanka and the balance exported to countries like Maldives and a few European countries.
A team led by Mr Nanayakkara has visited India to study how best practices in mango production to be commercially viable. Mr Nanayakkara said that Indian mango production is so huge that 30 tons of mango pulp is produced per hour and those machines work 20 hours a day and 60,000 kg of mangoes are fed to the machines.
The growth of the trees and every single mango is monitored as the fruits are covered with a special bag that is imported and the details are marked on the bag and this data is fed into their computer system.
The Nelna chief started his poultry business in 1997 on a very small scale with only 500 chicks while today the company produces 400,000 chickens for consumption.
These projects are maintained with internally generated funds as well as long term loans from banks.
Only organic fertilizer is used for their mango plantation and they manufacture their own fertilizer using poultry dung. Highly trained personnel are operating the 'Mango Project' to maintain high quality standards for the export market. Mr Nanayakkara said, "In addition, I personally monitor all activities of the mango plantation and when clearing the jungle and processing the land for mangoes to be planted, I station myself in the area and spend months to ensure the work is completed on schedule."
Soon the company plans specially packed mangoes in supermarkets as gift parcels which would add to the age old Sri Lankan culture of presenting gifts and a new culture of promoting a health food which would be appreciated.