A welcome change in direction took effect on Thursday, which continued into the next day when the All Share Price Index (ASI) bordered on the 6000 mark, but cooled off at the end of the day. This was after a phase of declines. The turnover however was limited similar to the earlier week except on Friday when it topped the billion mark due to institutional activity; three million shares in JKH and over two million shares in Commercial Bank were the ingredients that propped up the turnover. Panasian Power, Janashakthi Insurance and HVA Foods attracted fair interest during the week.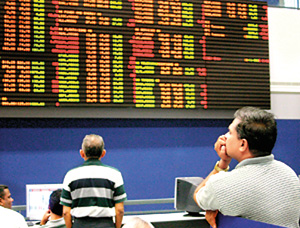 Some of the interesting prices were that of Nuwara Eliya Hotels at Rs 1,425, E B Creasy at Rs 1,600, and Harischandra Mills which was transacted at Rs. 2,990 on Thursday. The market response to Expolanka's acquisition of a controlling stake in Norfolk Foods was a fractional uplift in its price but well below its IPO price.The company which exports Sri Lankan products especially fruits on a large scale, has commenced a factory for making dried fruits, fresh juices and canned fruits.
The composition of the Milanka Index for the first half of 2012 was announced, providing surprises in certain circles - eg the exclusion of Dialog Axiata and the inclusion of Free Lanka Capital Holdings and Softlogic Holdings.
Analysts will be closely watching the action next week now that the market seems to have entered an interesting chapter, moreover with the expected window dressing and portfolio adjustment that may take place.
Changes in directorates
Nations Trust Bank PLC - Ajit Gunewardene, Chairman and Eranjith Wijenaike,Deputy Chairman will be resigning from the Board of Directors on 31st December 2011 with Ronnie Peiris being appointed Chairman effective from January; Citizens Development Business Finance PLC - H P G V Gunawardena, Non Executive Director will resign from the Board on 1st February 2012 and Dr Ajantha Dharmasiri will be appointed to the Board on the same day: Environmental Resources Investment PLC - Kelly T. Ehler was appointed a Director on 20th December 2011: Browns Investments PLC - Ajith Devasurendra resigned from the Board effective 19th December 2011,
Murali Prakash relinquised duties as Managing Director/Chief Executive Officer on 20th December 2011 while P R Saldin was appointed Chief Executive Officer on 20th December 2011: Trade Finance & Investments Ltd - N J H M Cooray resigned from the Board of Directors effective 21st December 2011: Central Finance Co. PLC - S V Wanigasekera, Chairman and U L Kadurugamuwa, Director, will retire from the Board effective 31st December 2011.
Jayampathy D Bandaranayake and Faiz Mohideen will be appointed to the Board on 1st January 2011: Commercial Bank of Ceylon PLC - K G D D Dheerasinghe was appointed Independent Non Executive Director on 20th December 2011: Nations Trust Bank PLC - Dhammika Prasanna de Silva and Ms Neelendra Shalini Panditaratne will be appointed to the Board of Directors on 1st January 2012: Commercial Development Co. PLC - Ravindra Srilal Dias and Udul Isuru Sri Tillakawardana were appointed Directors on 1st December 2011: Pelwattre Sugar Industries PLC - Damien Fernando resigned from the Board on 12th December 2011.
The weekly turnover was Rs. 2.7 billion, as against Rs 2.5 billion the week earlier. Both indices were slightly higher than last week mainly due to the upside seen on Thursday and Friday. The ASI gained just 0.1% or 89.89 points to close at 5982.58 while the Milanka was 55.18 points or 0.5% better at 5189.86.