Heritance Ahungalla, Sri Lanka's leading five-star resort owned and managed by Aitken Spence Hotels has been certified for Energy Management System ISO 50001:2011, the first local hotel to do so.
The certificate was presented to Malin Hapugoda, Managing Director of Aitken Spence Hotels by Dr. Srilal de Silva, Chairman of Quality International Certification Services (QICS) at the hotel, recently.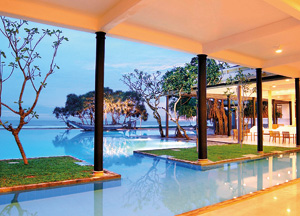 A view of the hotel
According to a hotel press release, Dr. de Silva was quoted as saying that Heritance Ahungalla staff had demonstrated their commitment to reduce energy and the need of sustainable development for today's business with the implementation of ISO 50001.
The owning company of Heritance Ahungalla, Aitken Spence Hotels, had initiated to introduce ISO 50001:2011 as a tool to reduce energy consumption, having recognized the ever escalating energy cost and the impact on global warming due to the efforts to generate more energy.
Refhan Razeen, General Manager of Heritance Ahungalla explaining the approaches made in developing the system, said the declaration of the energy policy was the first step taken to develop the system. This was followed by independent energy audits to identify areas which involve significant energy consumptions and energy objectives and targets were established to address these areas. The findings of energy audits were used to determine energy baselines for the development activities.
The hotel has already reduced the cost of energy significantly through their improved best practices.