The world's richest 20% get 14% of its income while the poorest 20% get little more than 1 % of world income, according to an eminent economist attached to the United Nations. Prof Jomo Kwame Sundaram, Assistant Secretary General, Economic Development, United Nations, addressing an open forum on 'Rethinking Poverty' – Growth and Inequality – held in Colombo this week organized by the Centre for Poverty Analysis (CEPA), said the world inequality between the poor and rich is accelerating and though growth also accelerates there is uneven development and greater inequality.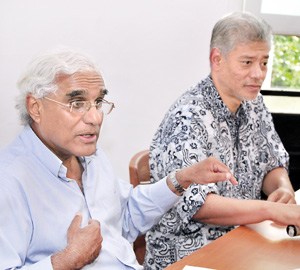 Dr Indrajith Coomaraswamy and Prof. Jomo Kwame Sundaram at the CEPA discussion. Pic by Mangala Weerasekera
He said that paid employment would minimize poverty and inequality and noted that the unemployment rate for youth worldwide is much higher now. Growth was slower during 1980 to 2001 compared to the 1950s to 1980s and welfare improvements were more modest but uneven since the 1980s and hence poverty reduction is slower with less growth and with worse distribution patterns. He stressed that poverty reduction needs job growth.
Prof Sundaram said that inequality has risen in most countries while poverty in China is less due to rapid economic growth, specially the productive employment growth. He said there are huge inequalities in per capita GDP in 20 poorest countries and 20 richest countries and said that the United States got half the capital inflow.
Prof Sundaram said international terms of trade was moving against developing countries. Speaking of the 'Share of Global Consumption', Prof Sundaram said that while the total private expenditure of the 20 richest countries is more than 90%, for the poorest 20 countries it is a minute share of less than 2 %. The fish and meat consumption of the richest 20 countries is around 52% compared to around 3% by the 20 poorest countries.
The total energy consumption of the 20 richest countries is around 65% while for 20 poorest countries it is around 2%. He said that the ownership of telephones in the richest countries stood at around 81% and for the 20 poorest countries it is around 1%.