Out of the total exports to the United Arab Emirates (UAE), 'Ceylon' Tea constitutes 48% while imports from that country - 51% consists of petroleum, and around 300,000 Sri Lankans are employed in that country, it was revealed at a high powered UAE Sri Lanka Business Forum held in Colombo this week.
A high level trade delegation from the UAE led by Ms Sheikha Lubna Bint Khalid Al Qasimi, Minister of Foreign Trade in UAE was in Sri Lanka and one-to-one meetings were held between Sri Lankan businessmen and the UAE Trade delegation.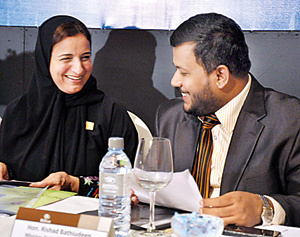 The two ministers
At a press briefing preceding the Business Forum, Ms Al Qasimi said that bi-lateral trade between UAE and Sri Lanka has increased by 9.2% in 2010 to US$ 400 million showing the growing by-lateral trade and said that UAE is interested in involving in tourism, health and education for possible investments.
She said that Sri Lanka has earned respect among the emerging economies due to Sri Lanka's geo-strategic location and like the UAE Sri Lanka too is a trading hub which offer potential in such growth sectors like food processing and BPO.
She said that the UAE is the largest foreign direct investor in Sri Lanka among GCC economies, investing US$ 66 million in 2010. She said that they were also interested in Sri Lanka's tourism, education and health sectors and to open the doors to SMEs of both countries and take part in more and more business forums to exchange trade delegations.
Rishard Bathiudeen, Minister of Industry and Commerce said that the UAE has become Sri Lanka's largest trading partner in the Gulf countries and also the biggest market for Sri Lanka's exports in the Middle Eastern Countries.