Coconut oil contributes only 3.0 % to the global usage of edible oils compared to 33 % for Palm oil. However unlike Palm oil which has been introduced as suitable for human consumption only recently coconut oil has a long history of being associated with humans in our part of the world just as olive oil in the Mediterranean countries.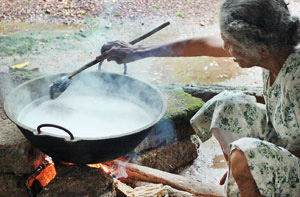 Multiple studies on Pacific Island populations who get 30-60% of their total caloric intake from coconut oil have shown nearly non-existent rates of cardiovascular disease. Further latest studies show coconut oil is also nature's richest source of medium-chain fatty acids (MCT). MCTs actually boost metabolism and help body use fat for energy, as opposed to storing it, helping you to become leaner. There is a misconception spread among many people that coconut oil is not good for the heart. This is said to be because it contains a large quantity of saturated fats.
Edible Fats and Oils like coconut oils are triglycerides formed by the combination of Fatty acids with Glycerol. The difference between various edible oils is due to the chemical nature of these of Fatty acids which are categorised into Short, Medium and Long chain fatty acids in chemist's language. All such Fatty acids are again divided into three types namely saturated, monounsaturated and polyunsaturated fatty acids.
The fact that coconut oil is rich in saturated fats is generally believed to be the reason why it is suspected to be unhealthy.
Coconut oil is challenged on two fronts due to:
1. The assumption that all dietary fat becomes body and
2. It has saturated fat like fat in beef, cheese, eggs and butter.
It is known that saturated fats as in butter, beef etc tend to raise levels of LDL cholesterol ('bad' cholesterol) in the blood. Elevated levels of LDL cholesterol are now said to increase susceptibility to heart disease.
Sri Lankan researchers on the subject, Amarasiri and Dissanayake have shown that among the saturated fatty acids in coconut oil, a large proportion is Lauric acid. Though this acid raises blood cholesterol levels it is due to the increase in the amount of high density lipoprotein cholesterol (HDL) which is considered the good cholesterol. It is also interesting to note that the same Lauric acid is also found in significant amounts in breast milk as well.
The human body metabolizes each fatty acid differently depending on its size. Some 65 % of the saturated fat in coconut oil consists of seven types of medium-chain fatty acids. Of these, Lauric acid is the most predominant. Medium-chain fatty acids do not circulate in the bloodstream like other fats, but are metabolized rapidly and converted into energy rather than stored as body fat. Research shows the human body also converts Lauric acid to a fatty acid derivative that protects the body from viral and bacterial infections. The only other good source of Lauric acid apart from coconut oil is mother's milk.
Although it is high in saturated fat, coconut oil also contains polyunsaturated and monounsaturated fats important for overall growth and development. The monounsaturated fat in coconut oil is made entirely of oleic acid, a component believed to possess the anti-cancer benefits associated with the Mediterranean diet. The polyunsaturated fat content of coconut oil is Linoleic acid, an essential omega-6 fatty acid.
However despite such knowledge about coconut oil many organisations like the United States Food and Drug Administration, (FDA) World Health Organization,(WHO) British National Health Service etc are against the consumption of significant amounts of coconut oil due to its high levels of saturated fat.
So why is it then that coconut oil has been considered bad for health? According to Thomas Brenna, a Professor of Nutritional Sciences at Cornell University the wrong conclusions were due to "most of the studies involving coconut oil were done with partially hydrogenated coconut oil, which researchers used because they needed to raise the cholesterol levels of their rabbits in order to collect certain data."
This was the beginning of the anti-saturated fat campaign. In the process of hydrogenation, edible oils are combined with hydrogen in a catalytic process to make them more saturated. In this process, some of these fatty acids are transformed into trans fatty acids(TFA). Trans-fatty acid intake has been convincingly associated with risk of heart disease based on epidemiologic and clinical studies. There has been concern about the safety of TFA since partially hydrogenated oils were established as alternatives to lard and butter in processed foods.
It has not only been established that Hydrogenation of edible oils creates dreaded TFA but it also destroys many of the good essential fatty acids, antioxidants and other positive components present in virgin coconut oil. Thus most bad publicity associated with coconut oil has been due to the misinterpretation of experimental results. Virgin coconut oil, which has not been chemically treated, is a different thing in terms of a health risk perspective. Today high-quality Virgin coconut oil is considered one of the healthiest oils, free of trans-fatty acids and is gaining popularity as a nourishing fat among health-conscious consumers.
In a more recent article published in the New York Times on 1st March 2011, entitled "Once a Villain, Coconut Oil Charms the Health Food World," Mellisa Clark says "coconut oil was supposed to be the devil himself in liquid form, with more poisonous artery-clogging, cholesterol-raising, heart-attack-causing saturated fat than butter, lard or beef tallow".
She then found something quite odd at the health food store. There, coconut oil was found to be hobnobbing with extra-virgin olive oil and cold-pressed Canola oil which prompted her to write the above article. In this article she goes on to say that "Two groups have helped give coconut oil its sparkly new makeover. One is made up of scientists, many of whom are now backtracking on the worst accusations against coconut oil. The other is the growing number of Vegans, who rely on it as a sweet vegetable fat that is solid at room temperature and can create flaky pie crusts, crumbly scones and fluffy cupcake icings, all without butter".
An analysis of Desiccated coconut and creamed coconut was found to contain 69 % fat. Full coconut milk is approximately 24 % fat. As mentioned before in coconut fat, 50 % of the fatty acids are Lauric acid. Lauric acid is a medium-chain fatty acid, which has the additional beneficial function of being transformed into a substance called "monolaurin" in the human body. Monolaurin is an antibacterial, anti viral and anti protozoal substance used by the human body to destroy lipid-coated viruses such as HIV, herpes, influenza, various pathogenic bacteria and protozoa.
Capric acid, another one of coconut's medium-chain fatty acids has been added to the list of antimicrobial components. Capric acid is found in large amounts in coconuts and it has a similar beneficial function when it is transformed into "monocaprin" in the human body. Monocaprin has been shown to have antiviral effects against HIV and is being tested for its antiviral effects against herpes and other sexually transmitted diseases.
The food industry has long been aware that the functional properties of coconut oil are unsurpassed by other commercially available oils. Unfortunately, in the United States, during the 1980s and 1990s, the commercial interests of domestic fats and oils industry with their anti-saturated fat agenda were successful at driving down usage of coconut oil.
The coconut industry has suffered for more than 30 years from abusive rhetoric from the consumer activist group "Center for Science in the Public Interest" (CSPI), from the American Soybean Association (ASA) and other members of the edible oil industry.
As a result of the acceptance of this new 'anti-saturated fat' agenda by the US edible oils industry, there was a gradual increase in the emphasis on replacing 'saturated fats' in the diet with larger amounts of the 'polyunsaturated fats'. The US government dietary guidelines remain very 'anti-saturated fat' even now.
The saturated fat in coconut oil prevents it from easily oxidizing and withstand high temperatures. Medium-chain fatty acids in unrefined coconut oil do not easily turn into trans-fatty acids when heated, which makes it a stable oil to cook with. Coconuts can hence add flavor, variety and nutrients to your diet. All of these qualities make it ideal for baking, cooking, frying and stir-frying.
Today high-quality virgin coconut oil is considered one of the healthiest oils free of trans-fatty acids and is gaining popularity as a nourishing fat among health-conscious consumers. Basically coconut oil is made by two processes. By pressing dried coconut meat called copra and it is unrefined before consumption. The other method is to use fresh coconut meat or non-copra. Chemicals and high heating are not used in further refining. Pure coconut oil is very stable with a shelf life of several years compared to other oils due to low unsaturated fats. This is the process one should encourage if more coconut oil has to be promoted for consumption.
Any edible oil is unsafe for consumption if it is not prepared under hygienic conditions. Prof S. Samarajeewa who is an expert in Affatoxins will tell you how unsafe peanuts and peanut oils are if during pre harvesting nuts get contaminated with mould. Corn is probably the commodity of greatest worldwide concern, because it is grown in climates that are likely to have perennial contamination with Afflatoxins since it is the staple food of many countries. This goes to illustrate that it is not the end product that is bad but it is how the raw material for the end product is handled. Thus in any process involving food manufacture it is absolutely necessary to get the starting point right. The reason for having virgin and extra virgin Olive oil is also due to this so that the consumer is offered the best alternative just like in the case of Virgin Coconut oil.
This is what the Food and Agriculture Organisation has to say about food safety in their document entitled, Standards to ensure the authenticity of edible oils and fats. "Ensuring the authenticity of food has been a problem for millennia. Wherever there is a commodity that commands a premium in the market and has either high value or high-volume sales, some people may be tempted to profit from illegal activity. The offence can take the form of adulteration, which generally involves the dilution of a commodity with less expensive materials. In past incidents of oil adulteration, palm stearin and olein (fractions of palm oil) have been blended together or with palm oil to give a product of unknown and variable quality; groundnut oils have contained undeclared small quantities of cheaper oils such as soybean oil; rapeseed oil has been added, undeclared, to the more expensive soybean oil and maize (corn) oil; and cottonseed oil has been diluted with palm olein".
It is obvious that the quality of an edible oil has to be ascertained before it is consumed. This is true for any edible oil not just as much for coconut oil. In 1971, the Food and Drug Administration (FDA)'s general counsel became president of the edible oil trade association, and he in turn was replaced at the FDA by a food lawyer who had represented the edible oil industry. From that point on, the truth about any real effects of the dietary fats were concealed from the public.
It is now well known that powerful public relations (PR) firms shape the public's awareness and beliefs, and the edible oil industry is no exception. PR's were created by major industries to manipulate public opinion. In a book entitled "Trust Us We're Experts" co-authored by John Stauber and Sheldon Rampton of the Center for Media and Democracy says "more and more of what we hear, see and read as "news" is actually PR content". Coconut oil too became a victim to this successful PR exercise of the alternative edible oil industry.
(The writer is a former director of a public quoted company in Sri Lanka and also the Managing Director of a first BOI (Thailand) approved Sri Lankan manufacturing company).