Lal Kirthi Amarasiri Gunawardena, Managing Director, Lucky Lanka Milk Processing Co Ltd, Kamburupitiya was declared the Entrepreneur of the Year (National Platinium award) at this year's Sri Lankan Entrepreneur of the Year competition organised by the Federation of Chambers of Commerce and Industry.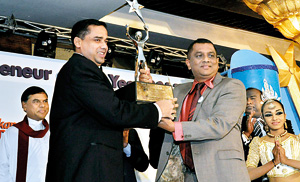 Amarasiri Gunawardena (right) with the award. Pic by Susantha Liyanawatte
Earlier during the ceremony at the Cinnamon Grand on Wednesday, Mineka Presantha Wickramasingha, Chairman/Managing Director, Ceylon Biscuits Group (Munchee) said it was hard work and dedication that takes one to the highest echelons in whatever field that one is involved. He was expressing his views when he was awarded the prestigious Entrepreneur Hall of Fame 2011 Award.
This year's winner, Mr Gunawardena reiterated the same sentiments in accepting the award and paid tribute to his parents, his family, sisters, the Board and retailers and consumers saying he was there to receive the award because of them. He said that he started his career in the same hotel (Cinnamon Grand - then Lanka Oberoi) as the venue of the awards ceremony as a trainee restaurant manager and noted that his journey was very challenging and sometimes, unbelievable.
He said that (once) when he went home for the weekend his sister had made a yoghurt and requested him to taste it. The product was superb and he then decided to proceed to commercialize it, irrespective of whatever barriers they would encounter. As the product had to be chilled before marketing, with the greatest difficulty, they bought a refrigerator on a bank loan and thence climbed the roughest terrain to reach the top today.