The Sri Lankan government is to tackle the fiscal deficit of 6.2% of GDP without compromising public investment of Rs.490.5 billion that is going to the improvement of infrastructure facilities including roads, ports, and power plants and to uplift the eucation sector.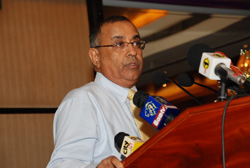 Dr P.B.Jayasundera
In this respect, the private sector should make at least Rs.2000 billion investment, four times greater than the public investment to turn the country's budget a surplus budget, a top official said.
Addressing a post budget seminar in Colombo organized by the Inland Revenue Department on Monday, Treasury Secretary Dr. P.B Jayasundera said the country has managed to reduce the budget deficit without pruning public investment for infrastructure development which is essential to promote private investment. Public investment fell last year from an actual 6.4 % of GDP in 2010 but is projected to rise to 6.6 % in 2012.
He noted that Sri Lanka has been able to maintain economic growth at 8 % of GDP in 2010 and it will prevail in 2011 as well. The targeted economic growth for 2012 is 8.2 % and this reflects three consecutive years of 8 % growth, he revealed. This will be above the inflation rate of 6.2%.
The government has given many tax concessions including tax holidays for SMEs to allow this sector to contribute its share to the national economy, Dr. Jayasundera said. The 2012 budget is focused on clarity consistency and continuity and it was prepared in consultation with around 3,000 persons representing various sectors and organizations including local chambers of commerce and industries, he disclosed.
Sri Lanka's SMEs will be granted unprecedented tax concessions and other benefits from the 2012 budget to make it as key drivers of economic growth. A 3-year tax holiday will be given to those engaged in agriculture, agro processing, industrial and machine tool manufacturing, electronic, export of non-traditional products, IT and allied services, Dr. Jayasundera said.
He revealed that state commercial banks have been directed to convert at least one of its bank branches in each district to a project financing unit to cater to the needs of SMEs sector.