SMB Leasing PLC which has been restructured and reorganized, is now located in its new premises at D.S. Senanayake Mawatha, Colombo 08.
"We are much better positioned and better located to provide our customers a much better service in every aspect of the leasing business," stated a company spokesman.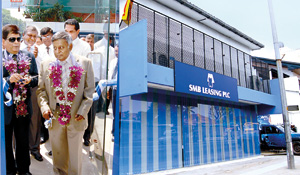 The new premises was declared open by the Company Chairman T. Someswaran together with Deputy Chairman U. Gautham (seen in the picture) with Executive Directors S. Peiris and J. C. Korale, and CEO Sumedha Fernando in attendance.