Sri Lanka is surging ahead towards prosperity and it is on the threshold of something extraordinary in the economic progress, said Central Bank Governor Ajith Nivard Cabraal, when he participated as chief guest at the Achievers of Industrial Excellence" Awards 2011 ceremony hosted by the Ceylon National Chamber of Industry at the Cinnamon Grand on Tuesday.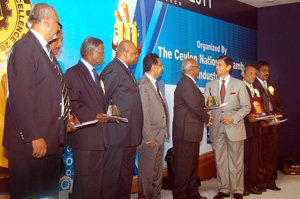 Picture shows directors of Ana International Pvt Ltd from Jaffna, which won a silver award in the special district category, receiving its award. Pic by Ranjith Perera
He noted that Sri Lanka's per capita income doubled to over US$ 2,000 in the last five years and the country had to wait 55 years to gain a per capita income of $1,000. He revealed that the country anticipates the doubling of present per capita income of $2,000 in another five years. He disclosed that Sri Lanka Gross Domestic Product (GDP) would reach $100 billion from the current $50 billion in five years.
He said the contribution from the industrial sector to GDP too has increased from 19.6 % to 29.6 %. In a major initiative to improve infrastructure facilities, the government has implemented power projects like Norochcholai as a solution to the power and energy crisis. Constructing five harbours, relaying of carpeted roads and several other development projects, are now underway bringing new hopes of economic resurgence and industrial harmony, he said. The Industrial Stainless Steel Fabrications (Pvt) Ltd (ISF) received the SAARC Country platinum award 2011.
The company has a long history of manufacturing high quality food processing equipment in Sri Lanka. After receiving the award, N. Sivakumaran, Director of the company told the Business Times "It is the only Sri Lankan company who has been successfully operating a fully owned subsidiary company in India for the past 16 years profitably with a turnover of $5 million".
Sri Lanka Telecom Mobitel walked away with the Gold for National Level - Industrial and Service Excellence in the Extra Large category and the CNCI Top Ten Award for Industrial and Service Excellence in the Extra Large category,
Ceylon Biscuits excelled at the awards ceremony by winning the Gold in the Extra Large category. Nestlé Lanka, , received the highest number of awards. It received three top awards in recognition of industrial excellence and contribution towards the progress of market, industry and the nation at large - at both national and provincial level. SMS Holdings (Pvt) Ltd won the National Gold Award in the Medium category -Manufacturing sector in 2011.