Sri Lanka's resplendent scenic beauty steeped in a historical past, coupled with delectable food and a local smile are winning combinations to lure free individual travellers (FITs) apart from its star hotels that require improvements, an influential visitor observed.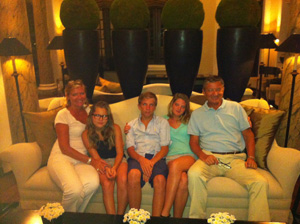 Olivier Lenormand and his family relaxing at a Sri Lankan hotel
During an interview with the Business Times, French entrepreneur and tourism expert Olivier Lenormand visiting the country for the first time with his family and spending over US$50,000 for simply staying at hotels and meals and sight seeing alone for 10 days believes Sri Lanka is a goldmine for tourism but improvements are required in its hotels.
As a traveller to all parts of the globe this year, he selected Sri Lanka upon being persuaded by one of his friends. But, he noted that they found limited information about the country through a few guidebooks. Sri Lanka Tourism has been targeting French travellers for years to date.
Identity of a country
He noted that before leaving for a holiday in Sri Lanka they were only aware of this country under its former colonial name "Ceylon" which he pointed out needs to be communicated effectively to discerning travelers.
While visiting the country, Mr. Lenormand said he felt safe while travelling around although they did notice a difference meeting people along the East coast. Elsewhere Sri Lankans would have their signature smile and had welcomed them during their walk into a village to have tea with the village-folk, something that left the family amazed.
In this regard, he pointed out the country must not focus on the war at all and it "should not be mentioned." Further, based on his own experience in the industry in other countries, he said, Sri Lanka needs to work on targeting the upper end clientele that demand a unique and personalized package to suit the aspirations of each FIT with quality information in abundance on the country.
Taking note of details is imperative and FITs need to be made more comfortable than that can be carried out by meeting their every requirement - from the right room quality to hotel brochures and serving refreshments on arrival to their rooms, to removing wet towels after use.
In carrying out an effective marketing campaign he opined that there is a need to not simply advertise or provide information on the Internet alone as most of his age use the tool less often than youngsters while the latter would not spend the same amount as he would on one visit.
Historical sights and sounds
Mr. Lenormand said while the country is rich in its historical monuments, the sights and sounds of the Esala Perahera left them with the thought of how "absolutely extraordinary" it all is. But even here there needs to be a provision of added information for tourists to clearly understand the Perahera.
It was pointed out that while other destinations were quick to market a small part of their country in a big way Sri Lanka was endowed with a uniqueness that will be the envy of many as it can boast more but evidently lacked any information on it.
The visitors were however contented with the professional chefs around the country that served delectable dishes that were "excellent."
Working on necessary details like cleaning up the entire stretch of the beaches, ensuring the spas of high quality which are run by professional establishments and not the hotel itself with its surrounding requiring a good outlook and feel, he explained.
He noted that correct classification of hotels must be carried out as the country's five star hotels most often seem like a four star and the boutique hotels need to be described as small luxury hotels as the French would not understand its quality.
Staffing hotels
Commenting further, on the state of the hotels while appreciating the friendly attitude of the staff at all places he noted that most were in the wrong place and this needs to be corrected.
It was pointed out that one pool employee was the reason why his family enjoyed their stay at one of the hotels as he had gone out of the way to assist them and ensure they had a great time doing what they wanted like even taking a dip in the sea.
In this regard, he pointed out the hotel schools should encourage the staff to be recruited and shifted around the hotels on the island every two years. In addition, they need to be provided with a foreign exposure and given the right job according to their experience as well, he pointed out. Hotels should also provide necessary information on travel within the country and about the hotel as well to take home to show to friends and family, he said.
With most lacking in any entertainment, the visitor was left bored and he believed there needs to be more activities around the hotels to keep guests out of their rooms.
Wild experience
Visiting Yala, Mr. Lenormand noted that since they camped out they were able to capture the sights and sounds of the wild in close range but was concerned about the prevailing traffic congestion due to at least 10-12 vehicles entering the park at once.
This, he asserted was never seen in Africa and would leave many disappointed and pointed out that tents available need to be upgraded for luxury camping as in India and Africa. However, he was surprised at what he got to witness around the country in comparison to his impression three weeks before leaving France.
Describing the island nation as a "beautiful country," with a "different climate," and "such variety" made up of "beautiful sights," he said "you have a history and historical places" and the people are proud of their country and history.
"You have gold in your hand and it's not far from France," he asserted noting the opportunities the industry can gain from in a highly competitive global marketplace.