As the economy gains momentum with construction, manufacturing and service industries experiencing a boom, vehicle sales at Sathosa Motors have seen a rapid increase with 75.7 %, increment in turnover during 2010/2011 financial year, compared to the previous year. The company's revenue has increased from Rs 817.8 million in 2009/2010 to Rs.1.44 billion in 2010/2011. Sathosa Motors has sold 331 units in the 2010/11, up 66% in units compared with the year before, Tilak Gunasekera Executive Director of the company and Chairman of the Motor Traders Association. said. The company has posted a profit after tax of Rs.110.5 million.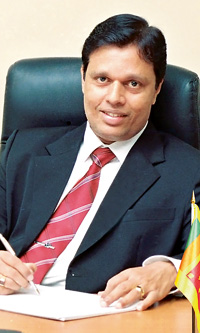 Tilak Gunasekera
Referring to the company's main focus on promoting and marketing a new brand of Isuzu vehicles, Mr.Gunasekera said that the Isuzu brand currently has well over 100,000 vehicles on the road of Sri Lanka which alone shows the brand's high acceptance in the local market.
The company's latest introduction to the commercial truck business is the new Isuzu N –Series Reward which is a light duty truck that was launched in mid 2009. Ever since it entered the local market the Isuzu N-Series Reward has been successful in maintaining a steady growth in the market, he revealed. It has a monthly sale of 40 to 50 vehicles, which is a remarkable figure for Sri Lankan truck market, he said.
This vehicle is manufactured according to Japanese environmental standards and therefore it has less carbon emissions enabling it to be more fuel efficient. The particular model is more technically advanced and is therefore the most updated version of the Isuzu N-Series, Mr. Gunasekera said.
Whilst Indian and Chinese trucks require an engine overhaul for every 150,000 kilometres, Isuzu trucks can go for 500,000 to 600,000 kilometres. Another unique feature of the Isuzu brand is the fact that it has a long lifespan of 14 years while other subtantial models may not even last for five years, he added.
The company is greatly focusing on the single and double cab markets and has introduced the latest versions to the local markets which are currently quite popular among various customer segments and if the demand for these products keeps increasing the company hopes to import more such cabs in the future, he said.
Mr . Gunasekera maintains that in the commercial vehicles market, the availability of spare parts is an essential factor. "At Sathosa Motors , we maintain spare parts for vehicles that have been on the road for as long as 30 years. We never ask a customer to wait for a spare part to be ordered. We understand that transport is a crucial logistic of any enterprise, so we service spare parts requirements immediately through an islandwide dealer network of 60 dealers," he disclosed.
Referring to market opportunities in the North and East , Mr Gunasekera noted that Isuzu is already a trusted brand in these areas. Customers in these areas are using older models of Isuzu trucks purchased prior to the starting of the war, and they are still in working condition, he said.