A state –of- the- art maintenance and service centre for Hybrid cars set up at Maligawatte in Colombo by Hybrid Motors Singapore recently is servicing at least 15 cars daily and the number is expected to grow with its customer care service headed by three Singapore experts and British expert Robert White, Chief Engineer, officials of Hybrid Motors Lanka (Pvt) Ltd said.
Recognizing the hybrid car's growing popularity in Sri Lanka and need for future maintenance, Hybrid Motors Singapore opened this centre with an initial capital investment of US$ 500,000, they added.
Despite the tax hike in April which jacked up duties on hybrids from 38 % to 50 to 100%, the environmentally friendly vehicles are gaining popularity day by day. Toyota 's Prius and Honda Insight are the two most popular hybrids in Sri Lanka, taxed at close to 50 % as against 138 % charged on a same range of non-hybrid car. Sales of other Honda models like the hybrid Civic and CR-Z, a two door sports coupe, are also becoming popular.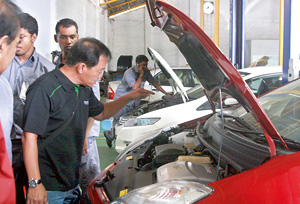 Chief Technical officer John Tesng inspecting a car. Pix by J. Weerasekera
This centre offers maintenance and repair facilities for hybrid cars which is lacking in the country at present, said Azli Ismail, Sales Director Hybrid Motors Lanka (Pvt) Ltd.
The company, a subsidiary of Hybrid Motors Singapore, will promote Hybrid technology in the island while providing maintenance facilities for Hybrid car owners, he revealed. With recent fuel prices climbing high, more car buyers will turn to these vehicles in the future. Already, there are 3,000 Hybrid cars in Sri Lanka, Mr Ismail said adding, that 6,000 more are expected in the local market.
"Hybrid car sales are increasing, and the country needs more skilled technicians and maintenance centres to work on these vehicles."
Eddie Lo, Chairman of the company said, that they are training local technicians to service and repair Hybrid cars which is essential to provide an excellent service for customers. "We offer maintenance and repair service of high quality standard with Singapore expertise using original spare parts and we don't want to cheat customers offering cheap services," he said.
Mr Lo noted that Hybrid cars will be an answer to rising air pollution, dependence on oil, and damage to the environment. A hybrid-electric car uses a battery and electric engine to increase gas mileage, lowering emissions and fuel consumption. The company is promoting these cars as they are better for the green environment, he added He noted that the services provided at the centre would be of high quality since the company had gained experience in the last four years in servicing hybrid vehicles. Hybrids differ little from regular vehicles when it comes to routine maintenance items. Other than the systems that control the on-board storage batteries and the additional electric drive motor, routine maintenance for hybrids is pretty much similar to other automobiles.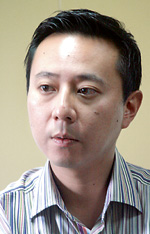 Eddie Lo
No warranty is issued when selling Hybrid cars to customers and there are no service centres to meet the mechanical needs and repairs of such cars here in Sri Lanka . The company is planning on working with hybrid car dealers to sell these cars with a warranty to ensure that the car can be serviced and maintained. He revealed that his company plans to expand the service station network around the island if more hybrid cars are imported.
According to Hybrid Motors Lanka Sales Director Mr Ismail, the labour cost charged by the company will be on par with local car service centres while the cost of spare parts will be determined by the manufacturers.
John Tesng, Chief Technical Officer said that Hybrids generally are equipped with dual voltage systems. Though most of the electrical systems are safe standard 12-volt, the drive motor and related components operate well in excess of 100 volts. The safey threshold is low and narrow, an electrical shock with as little as 50 volts can prove fatal. To warn technicians and operators of these high voltage circuits, the cables are wrapped in a bright orange casing.
To safely maintain and repair these components, the system must be de-powered, a task that is absolutely best left to trained technicians. The complex electronic modules that control the electric drive motor for both propulsion and regenerative braking can generate enormous amounts of heat, so those often have their own dedicated cooling systems. The battery control modules regulate both charge and discharge rates as well as the state of charge of the entire bank. To operate consistently under all conditions, these systems will often employ both heating and cooling systems, he said adding that any defect in the engine should be checked by using computer systems and ad hoc methods should not be used to detect defects.
The company will strive to change the mindset of the potential customers to the green car concept, whilst encouraging the Government and other organisations to go for green vehicles, promoting hybrid technology in Sri Lanka.