Industrial Gases Pvt. Ltd has added further value to its versatile portfolio by the commencement of 'Dry Ice' production. The company's new plant and machinery is capable of producing Dry Ice slabs, pellets and chips which serves the Fishing, Food and Entertainment industries.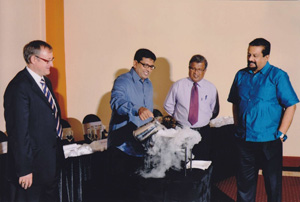 Picture shows - Jurg Maron - Representative of ASCO Switzerland, Sumith Guruge - Chairman of IGPL (igniting the Dry Ice smoke effect), Lalith Peiris - Executive Director of IGPL and Amal Senalankadhikara - Chairman, Ceylon Fisheries Harbour Corporation
Another great feature of this versatile product is the possibility of cleaning and servicing machinery and equipment with its Dry Ice blasting system, which avoids the time consuming procedure of dismantling the machinery, the company said.
An event to introduce the product to the industrial circle, potential buyers in the related industries, well wishers and the foreign supplier was organized at the Hotel Galadari to felicitate this milestone event in the history of the company, it said.
Since its formation in 1992, Industrial Gases Private Limited, situated in Sapugaskanda, has been an innovative and efficient provider of solutions to industry, offering the highest quality industrial, medical and specialty gases, welding consumables and accessories ranging from high pressure gas regulators, to industrial welding equipment and accessories.