Douglas & Sons (Pvt.) Ltd (DSL), a top Colombo firm dealing in tyres, recently sponsored probably the largest ever group of dealers from Sri Lanka on an overseas trip. The group was taken to Singapore during a period when the company was celebrating its 25th anniversary with a series of religious and CSR events.
With no single aircraft able to handle the total of 700 passengers, DSL's guests flew to Singapore on the same day on three different airlines - SriLankan Airlines, Singapore Airlines and Cathay Pacific.
Company chairman Saroj Perera said DSL stands as an example in the auto parts after-market, having achieved continued success over the past years, and now the organization's next objective is to become the best distributor in the South Asia region.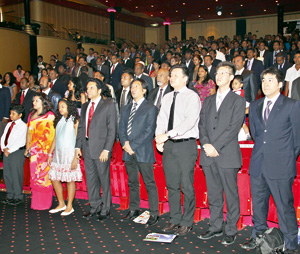 Picture (sent by the company) shows a section of the guests with Mr Saroj Perera (fourth from left) at one of the Singapore events.