The greatest love story ever told, Shakespeare's acclaimed tale gets a comical, off-the-wall makeover in animation form as 'Gnomeo and Juliet', a family adventure which is now being screened at the Majestic cinema, Colombo.
Directed by Kelly Asbury, the film tells the story of Gnomeo and Juliet who have as many obstacles to overcome as their quasi namesakes when they are caught up in a feud between neighbours. But with plastic pink flamingos and thrilling lawnmower races in the mix, can this young couple find a happy ending?
Living next door to each other at "2B" and "Not 2B" on Verona Drive are Miss Montague (voiced by Julie Walters) and Mr. Capulet (Richard Wilson), sworn enemies whose feud extends to their, respectively, red- and blue-hatted lawn gnomes. Coming alive when the humans aren't around, the reds and blues may be separated by a fence, but that doesn't stop them from frequently blaming each other whenever their property is touched and competing in lawnmower races in the alley out back.
From these two groups comestar-crossed lovers Gnomeo (James McAvoy) and Juliet (Emily Blunt), who share a meet cute while their identities are camouflaged and then must try to secretly carry on a relationship afterwards without their families finding out.
Showcasing both classic and original songs by Elton John, the film features the voices of James McAvoy and Emily Blunt as Gnomeo and Juliet. "Gnomeo and Juliet," created by Kelly Asbury has enlivened Shakespeare's timeless classic for younger generations. Elton John is a producer and music supervisor on the film and has pushed it to the big screen from an idea that first surfaced a decade ago.
Three women, one story
An interesting Hollywood dram a, 'Personal Velocity', a story of three very different women will be screened at 6 pm on March 15 at the American Center, Colombo.
Directed by Rebecca Miller, this passionate, poignant and bracing film which won the 2002 Sundance Festival's Grand Jury Prize, delivers a muscular punch, Delia (Kyra Sedgwick) escapes from an abusive husband, Greta (Parker Posey) risks everything on a new career and Paula (Fairuza Balk) takes flight after a tragic accident.
Delia is a spirited, working-class woman from a small town in New York who leaves her abusive husband and sets out on a journey to reclaim the power she has lost. Greta is a sharp, spunky editor who is rotten "with ambition" despite her own intentions.
To spite the hated infidel ways of her father, she has settled into a complacent relationship and is struggling (not too hard) with issues of fidelity to her kind but unexciting husband. Finally Paula, who ran away from home and got pregnant, is now in a relationship she doesn't want. She's a troubled young woman who takes off on a journey with a hitchhiker after a strange, fateful encounter on a New York street.
City Zero: World of no return
Russian film 'City Zero' directed by Karen Shakhnazarov, a story of a man who set off for a business trip and ends up in a fantasy world where returning to reality becomes impossible, will be screened at 6 pm on March 16 at the Russian Centre, Colombo.
'Zeri City' a perestroika landmark, is easy to overlook: an absurdist, Kafka-esque comedy in which a Moscow engineer arrives in a small town to modify a tiny air-conditioner part, cannot get a straight answer, is met with all manner of surreal nonsequiturs, and eventually realizes he can never leave. If Buñuel had done time in a Communist country amid his many exiles, this might well have been the result.
The film combines humour with an experience of the kind of rituals and beliefs that initially serve, then ultimately imprison, the soul which remembers another place to be.
Empire of the Wolves in town
French film 'L'Empire des Loups' (Empire of the Wolves) directed by Chris Nahon will be screened at 3 pm on Tuesday, March 15 at 6.30 pm on Wednesday, March .16 at the Alliance Francaise de Colombo.
Arly Jover plays Anna Heymes, a stylish Parisian housewife 31 years of age, who experiences nightmares and hallucinations related to a series of gruesome murders in the city.
At the same time, a duo of policemen, the unorthodox Schiffer (Jean Reno) and the cautious officer Nerteaux (Jocelyn Quivrin), work to unravel the mystery surrounding the murders. The plot thickens when Anna discovers that she has been subjected to intensive reconstructive surgery, which concealed her Turkish heritage. A series of events escalates into a confrontation with the Turkish mafia and the death of Anna's would-be assassin.
FRENDZ capture t our cricket heroes with 'Hadawatha Gassena Thaaleta'
FRENDZ maybe the new kid on the block when it comes to bands, but the young musical ensemble has created huge ripples in the local music arena with their latest release, 'Hadawatha Gassena Thaaleta' a song dedicated to the Sri Lanka cricket team and to all those cricket fans who feel the vibes within them.
Having performed the song at a live TV programme, following the positive comments and encouragement given by some prominent figures in the music industry as well as viewers, FRENDZ went ahead and recorded the song along with a video.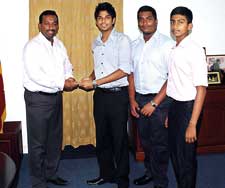 Minister Mahindananda Aluthgamage receiving the music video from Kasun Yatawara and FRENDZ. Also in the picture are (from R-L) Migantha Dilhara and Chanuka Piyasiri.
The song that has a 'funky' effect within, can be categorized under the 'inspirational type'. The song speaks of hope, the passion that every one of us, as Sri Lankans possess for the game. Another unique factor about the song is that it speaks of how we would never let them (The Sri Lankan cricket team) down irrespective of victory or defeat, which also highlights the spirit in which the game should be played.
The Minister for Sports, Mahindananda Aluthgamage having heard of this endeavour by a group of budding young musicians, requested for a copy of the same and Kasun and his team of FRENDZ had the privilege of presenting the music video to the minister recently.
Kasun Yatawara was quite upbeat about their recent achievement and said, 'as a member who initiated FRENDZ, I am extremely happy about releasing our first song video. The lyrics and the track was composed by me and when doing so I was true to my feelings on my perception of the world cup and how I've got the vibe running through my veins.
Being able to hand it over to the Sports Minister was a privilege and his comments encouraged us to a great extent. There were many obstacles we had to overcome during the process. Through this song we wish the Lankan Lions all the very best, and we hope they will do it once again, just like they did it in 1996"
FRENDZ consists of Kasun Yatawara, who is the vocalist and lead guitarist, Senal Kapugeekiyana on bass, Migantha Dilhara on drums, Amanda De Silva on Keyboards, Chanuka Piyarisi and Thivanka Dias on Harmony and Dushinka Nelson on 2nd Keyboards.
The song will be formally released within the next few weeks. The video was done by "Roo Creations" and the audio mastered by Nalin Karunanayake. Having completed the track and the video in quick time, FRENDZ are happy with the final product, and are hoping to present it to the public as soon as possible.
Cameron back in Colombo
Well-known yesteryear musician Cameron Colombege, who has been residing in Australia for the past 25 years, visited his motherland last week after 12 long years. Cameron had been a full time musician playing for leading bands in the country before he left for Melbourne in 1986.
There he joined a band called 'Replay' with whom he plays to date – and that alone underlines the calibre of the man. While in Sri Lanka singer Keerthi Pasqual had recorded some songs composed by Cameron who took up music just as he left school – St. Peter's College, Colombo.
'I started off with a calypso band and gradually joined the Pioneers led by Raj Dissanayke. Then I played for the Negombo Sunshine band of Sheridon Kuruppu. In 1983 I joined the band of Patrick Denipitiya," said Cameron whose father had been guitarist in the orchestra of Mohamed Sally in the good old days.
'But it's my mother Hermion Colembege who has been my biggest strength right throughout,' insisted Cameron whose wife Srimathi is also a talented artist who had held exhibitions in Colombo.
Kishu Gomes stars on 'Celeb Chat'
Listen to corporate leader, fashion icon and renowned motivator Kishu Gomes talk about his 'winning formula' on CSN/Prime TV's "Celeb Chat" at 9.30 pm on Monday 14 March. Kishu currently holds multiple positions. He is the Country Chairman for Chevron's Sri Lanka business operations and heads Chevron Lubricants Lanka Plc, a leading blue-chip in the country and Chevron Ceylon Limited (a fully owned Chevron company). He is responsible for the Chevron's Global Lubricants business in Bangladesh and the Maldives.
Kishu's many talents and interests show in his off-time activities. He loves sports. He may be the only CEO in the country who gets into proper athletic gear and runs with the lowest level of employees at the annual sports meet which is adjudicated by the Amateur Athletic Association of Sri Lanka.
As a man who strongly believes in Personal Branding, he sings as well and performs with professional singers on popular TV and radio shows. He is into modeling as a hobby on a very selective basis. Catch Kishu on 'Celeb Chat' in an unplugged chat with host Kumar de Silva.
Repeat telecast will be on Tuesday 15 March at 3.00 am, 11.00 am and 8.00 pm You can catch Celeb Chat on CSN on Channel UHF 22, Channel 75 on Dialog TV and on PEO TV.
French Movie : 'Holiday Drama'
'Embrassez Qui Vous Voudrez', a popular French movie will be screened at Alliance Francaise de KOTTE at 6.00 pm on 18 March.'Embrassez Qui Vous Voudrez' is all about a housewife. Leaving behind her two-timing husband and rebellious teenage daughter, bourgeois housewife Elizabeth takes a holiday at the up market seaside resort of Le Touquet. Joined by her single–mother pal Julie and with a couple of neighbors tagging along, a series of mistaken identities and adventures make it a vacation to remember.
Directed by Michel Blanc, this 99h 2002 film stars Charlotte Rampling, Jacques Dutronc, Carole Bouquet, Karin Viard. This screening is free of charge and open to the public at the AF de Kotte at 139 Jawatte Road, Colombo 05.