Afghanistan hardly seems the ideal location for a job, but 27-year-old Avinesh de Silva is quite happy to be there, working for a foreign aid agency, in the relatively peaceful ancient city of Herat in West Afghanistan, full of historical lore and associations.
Avinesh has been in Afghanistan since April 2010 and in Herat since last August, living the fairly isolated life of the expatriate in this turbulent country. "We live in a compound and we certainly may not roam where we please or hobnob with the locals. We go out in armoured vehicles and are accompanied by security men. Admittedly, it's a restricted life."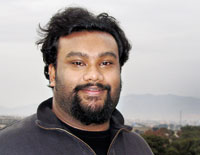 Avinesh in Afghanistan since 2010
The road that led Avinesh to Afghanistan is a long and interesting one. He migrated with his parents when he was five-years-old to the U.S. -Washington DC where his mother works at the World Bank and his father is an investment banker.
Avinesh went to school and university there – the American University's School of International Service. In his undergraduate years, he did a stint in Beijing, China, for six months, on an exchange programme, and also in Belgium.
Avinesh likes to meet people and see the world and enjoyed his time in Beijing very much. Lectures were in English, but students had to attend Mandarin classes – a very difficult language to master, he says.
Avinesh chose to go to the University of Melbourne to read for his Master's degree in International Politics. He loved the Australian way of life and the large Sri Lankan crowd in Melbourne. Returning to America, he knew his work lay in the development field. But he has always come back to Sri Lanka every year for his summer holidays, so doesn't feel a stranger here.
On this visit, travelling to rural areas, he found more signs of prosperity than ever before - "take-away" food joints in small outstation towns and new three-wheelers and scooters everywhere. Reverting to the topic of life in Herat, Avinesh said he was not qualified to speak knowledgably because his movements were restricted and the only Afghans he met in the course of his work were educated people.
They were very proud of having worsted the Russians and Victory Day is celebrated every year. The Taliban were still around and carried on terrorist activities like placing bombs on road-sides and targetting anyone whom they felt was against them. Foreign aid workers are targetted, which is why the bigger aid agencies don't allow their workers to venture out into unknown areas.
There is a level of Government control of NGOs. He found that the people were very appreciative of projects like building a school, or erecting a wall right round a school, or any irrigation project, since they depend greatly on agriculture. Herat is a very dry place where, so far, Avinesh has only seen it rain once! They have the seasons and winters are cold, but again, Avinesh had experienced a snowfall only on a single occasion (but in an e-mail I received from Herat on March 2nd, he writes, "We have had some significant snow falls in the last few days"). The staple food of the people is rice, mutton, chicken, grains such as chickpea and lentils, salads and flat bread.
Some regions are more conservative than others. Women wear the burkha and don't walk about alone on the streets in places like Kandahar in the south, whereas in other places they go to work and move around freely, disproving the stereotype that most people have of the typical Afghan woman. Kabul, the capital, is a bustling, "normal" city with restaurants and cinemas and plenty of trade and commerce.
Avinesh referred to the worldwide media publicity given to an American pastor who wanted to burn the Koran. "People who publicly say such outrageous things should realize that they put a lot of lives – like those of us expatriates working in Muslim countries – in danger.
"However, I was very impressed to hear that the Imams in Herat had asked their people not to get excited, but to show tolerance, as this was the raving of one man and was not representative of a whole nation."
Avinesh says he would love to come back sometime to be of service to Sri Lanka. He seemed to me to typify the modern young person who grows up abroad – confident, accepting of people of different cultures and feeling a citizen of the world.Had he in all his growing-up years in the USA experienced any racial taunts or prejudice?
His reply was, "No. I think America has moved beyond that now. But I must say that when people choose to leave their own country and adopt a foreign country as their new homeland, they should not expect to duplicate the familiar way of life in the old country.
Keep their identity, sure, but integrate with the wider community and not fuss and complain that `things are'different here'!" Avinesh has travelled extensively in Europe and would now like to see more of Asia. An American citizen, he hopes to take dual citizenship soon. Sri Lanka is still very much a part of his life and he would love to come back sometime to be of service here.
He is obviously keeping his options open, for he frankly said he didn't know what the future would hold. He seemed to me to typify the modern young person who grows up abroad – confident, accepting people of different cultures and feeling a citizen of the world.