The good news is that the Papare Mag is here, the bad news is that there are only limited copies available. It seems that the boys behind thepapare.com have outdone themselves again. Their first issue is loaded with star power:
Duleep Mendis has penned a column, Mahela Jayawardena and Kumar Sangakkara are in there talking about their days as school boys and former Sri Lanka rugby captain Pavithra Fernando is on record taking a swipe at sports administrators. From world cup and Asian 5 predictions to a tribute to the Royal Thomian Big Match heroes, the magazine manages to do what the website did best – offer an appealing mix of interviews and analysis of Sri Lankan sports for the dedicated fan.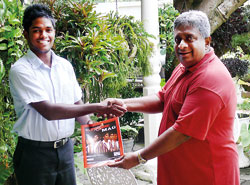 Handing over the first copy to Duleep Mendis
Launched last month, the magazine is a bimonthly publication but Hafeel Farisz and Sankha De Livera Tennakoon say the team is hoping to make it a monthly soon.
(The next issue will be out by the end of April coinciding with the rugby season.) This week, the two founder members of thepapare.com share their hopes for the magazine with us.
How's it going at thepapare.com? What are some of the exciting stories you're covering right now?
We are now covering the big match season and have placed a lot of emphasis on giving the cricket season good coverage. We have plans for the upcoming rugby season.
We want to give the best coverage with in depth analysis. We also want to upgrade our live stream and we also have plans together with the SLRFU to introduce a referee video review system. Plans for the All Stars Colombo vs Kandy school boys match is also underway.
Tell us about the magazine. What sets it apart? What's your vision for it?
To be quite honest there really is no magazine that caters to all the needs of the sports frenzy Sri Lankans. What we want to introduce therefore, is a one of a kind mag which caters to all those requirements. We want it to be state of the art in both content and lay out. Ideally we want it to be the one stop magazine for any sports enthusiast. Later on we want to have a papare mag in Sinhala and Tamil.
For that we need to consolidate with the English one first. But looking at the response that we have received from national sportsman, school boys and CEOs we have no doubt that if we work hard getting this idea transformed into a household product could one day become a reality.
How do you think the things that made thepapare.com so popular will translate into the print medium? What gave you the confidence to make the leap?
There's not much of a difference in both really. It's the same principle applied to two different products. A bunch of young sportsmen taking an idea and developing it into an actual product.
We never really initially saw the site being what it is today. We just took the leap with no real clue as to what we were getting into and it paid off.
So we are taking that same risk again. All of us have the drive and passion to make it work and we really believe in the idea behind it.
Will you be linking articles in the magazine with things running on the website and vice versa? Or do you imagine the two having separate identities?
We want it to be two different entities. We did a lot of research on this very subject and all of us agreed that something tangible is no substitute for something that isn't.
All the major publications in the world and even in Sri Lanka have concurrent websites running but still the need for that "thing in your hand" has not diminished. Research done by Newsweek shows that it actually has increased despite the popularity of the internet.
Who is on the team?
Just like the site everyone who is involved with the magazine are guys who have played a sport at some level. We want to keep working on that and getting in more sportsmen into the team.
The major difference would be that we have got on board some super girls as well to give the magazine a balance. Esala de Livera Tennekoon, Ayesh Rajapakse, Arjun Manoharan, Anithra Varia, Sandeep Jayawardena, Umhar Samsudeen, Achala Ramanayake, Milinda Gunawardena,and Enakshi Wickramanayake all of them who have played diverse sports at some level.
Is there a particular magazine or website you're inspired by?
Yes we want the mag to be as user friendly as the Newsweek magazine with the vibrance of ESPN and the subtlety and class of the Forbes Mag.
Who would you consider your competition?
[Laughter] Trying to get people into believing in this idea would be the biggest competition. Like we told you there really is nothing of the sort in the country so beating that stigma of "will it work?" will be the biggest challenge obstacle and competition.
What's coming up for the magazine in 2011?
We intend on getting the word across to as far as we could. The response for the first issue was phenomenal and we have to go in for a second print for the upcoming Royal Thomian. But we are focused on keeping things simple- we want to focus on giving good content and doing what we do best "living the sport".
The mag is priced at Rs.150/-. Contact either Ayesh (0773109897) or Arjun (077938824) to get your copy.