As a young girl, Manella Joseph could see no reason why she and her siblings could not be Sri Lanka's answer to the Jackson 5. The Winslow 6 (fashioned from her brother's first name) made up of her four sisters and one brother did in fact become a popular act, releasing an album, making appearances on T.V and performing before live audiences. This year, Dr. Joseph will turn 60, and she's decided to mark the occasion with a return to the stage. The concert will be later this year, but the release of an album composed of entirely original numbers will keep long time fans happily occupied until the event. For Dr. Joseph herself, '60 Years Young' brings together many years worth of song writing and dreaming.
A Consultant Senior Pathologist at Sri Jayawardanapura, Dr. Joseph says she is still very active professionally. Having ostensibly abandoned a career in music for one in medicine, she never stopped writing and composing on the side. Petite and cheerful, Dr. Joseph tells me that the Winslow 6 was formed when she was just 17. Describing herself as 'naive and ignorant' she says the idea of writing original music did not at first occur to the group, but that in subsequent years it has been a point of pride for her that she composes all her own music.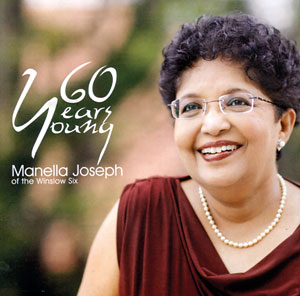 Manella's CD
Her first two songs 'Wake up' and 'Picnic at the Beach' were included in the Winslow 6 album. Subsequently, marriage, children and her medical career placed their own demands on her time, but now with her children grown up and settled down, she's embracing the opportunity to explore her passion for music. A satisfied grandmother of two, she will turn sixty in June ("it's not necessary to hide your age, it's important to look good at your age") and she knew she wanted to release this album now.
The ten tracks that make up '60 Years Young' have been inspired by a number of different events and people. Included in the CD case is a booklet that lists the lyrics and provides some insight into each song. The earliest track goes back to 1977, the latest is 1989. The latter, 'Let's Pretend We Are Lovers' is a duet with Chandral Fonseka. Dr. Joseph wrote it 12 years into her marriage and notes that it "describes the stressed out life of a young couple and the need to escape once in a while." Another titled 'Pretending to Love You' was written in 1970 and was intended to capture the puppy love and disillusionment that many of her friends went through as young women.
The songs on this album were first recorded in 1980s with the help of two one man bands - Dr. Farizad Nassim and Nihal Fernando. This time, however, Dr. Joseph asked Suresh de Silva to help her arrange the music and provide back up. Proficient on multiple instruments, he plays everything from the guitar to the harmonica and the saxophone on the album. Composing in both Sinhala and English, Dr. Joseph herself plays the keyboard though her main instrument is the piano accordion. An all Ceylon piano accordion champion at the age of 11, she says she's looking forward to performing with the instrument. "Even though it's out of fashion, I think it's a lovely instrument to bring back to the scene," she says adding that she intends to include it in her concert programme. (Incidentally, she also says that she sews all her own clothes and that she will wear one of her outfits to perform.)
Sitting across from me, she says all the songs in her repertoire "were inspired by events in my life." Some moments were as ordinary as the coming of the rain after a dry spell, but Dr. Joseph says there was always occasion for a song. She reveals that 'Welcome Rain' was penned when her younger daughter Dillai was just seven years old – all grown up now, Dillai not only provided the backing vocals on the album, but designed the packaging as well. Her elder daughter Dillain Joseph is an accomplished singer in her own right, says Dr. Joseph proudly, thanking the two children and her husband Joe for all their support.
Priced at 500/- each the CD is available at Torana Music Centres, Lanka Hands and Cool Planet.