Sanjaya Vithana is an artist, photographer and many things but the influence of his next career move dates back a long time. To the late 70's to be precise and the release of a film that would have an unparalleled impact on the movie world – Star Wars. That went on to spawn a hugely successful series that enthralled audiences for over 20 years but for him it has been and still is the stuff of dreams.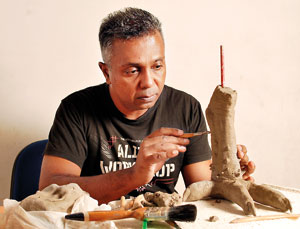 Sanjaya Vithana at work
That was all of 30 years ago - and Sanjaya can talk at length about the special effects and cinematography that made this epic, science fiction history, of George Lucas' vision and the enormous effort that went into each sequence. His favourite of the Star Wars movies is The Empire Strikes Back and he confesses that he must have watched it all of 300 times. From Star Wars he moves to director Peter Jackson and what he accomplished with the Lord of the Rings and more recently James Cameron's work on Avatar.
It's more than the enthusiast's passion though. In the quiet of his open workshop, one floor above his Piliyandala home overlooking a wide expanse of green, surrounded by rubber models, rigiform backdrops of landscapes like the Grand Canyon, he leads us to a creature, suspended in mid-air. It bears a stark resemblance to a dinosaur and is made of a curious mixture of materials, the body is made of foam latex, the palate made from the same mixture used for dentures and the jaw opens via a hairclip. It looks curiously real despite its mechanically operated body and is just one piece of the strange world that Sanjaya is busy creating, for the film he hopes to begin work on soon.
The film is what he has been dreaming of. The storyline is ready and the creator believes that he too is ready after years of doing commercial work that has seen him creating several successful campaigns both for print and TV.
The story is not that complicated - he doesn't want to reveal too much except to say that there's action, adventure, light-hearted entertainment and also a strong human element, a bond between father and daughter that will see his young heroine venture into outer space in search of her genius father. He visualizes some good old-fashioned special effects and equally importantly, finding the right actors for his roles. The main character will be a tomboyish confident, and of course good looking girl, he says, with a grin, adding that he is seriously on the lookout now.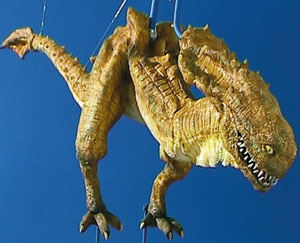 A creature, suspended in mid-air, in preparation for the film
Taking us through the different models scattered around, all equally ingenious – space stations fashioned of castoff printer parts and bottles, a monster foot made of clay, he speaks about the many experiments he has done, working with Plaster of Paris, foam rubber, polyurethane etc, even visiting the Rubber Research Institute in his quest to get the materials right for his many creations made over the years. The collection of books above his desk attest to his fascination, or rather obsession with cinematography and special effects, stop motion animation and all other facets of this complex and ever changing field.
It was not a career his parents envisioned for the young Sanjaya. He was obsessed with drawing as a child, so preoccupied with it in fact, that his parents, worried that it might be to the detriment of his studies sent him to Ambalangoda to the care of two of his aunts who happened to be maths teachers. He moved thus from D.S. Senanayake Vidyalaya to Dharmashoka but 'it didn't work' – the urge to draw was too strong. In fact when he was in Grade 3 a cartoon he had done was featured in the Sithara.
Meanwhile there was also his growing interest in the camera. By the time he was in Grade 8, even though he didn't own a camera he knew its workings in and out and finally an uncle bought him his first a Penatax ME Super. " I loved it," he says, eyes lighting up at the memory of taking pictures of the school sports meet, and having his shots snapped up by his buddies even more than those of the official photographer for the event.
His first brush with the movies came when his father Nanda Vithana took a small role in the film 'Dadayama' and young Sanjaya met veteran cameraman Donald Karunaratne, whom he remembers with gratitude for having encouraged his interest, lent him many books on special effects and allowed him to see the world of movie-making up close.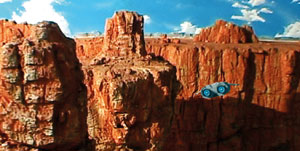 Rigiform backdrops of landscapes like the Grand Canyon
More openings did come; through Camillus Perera and Jayantha Chandrasiri he was able to get pictures published in the Navaliya and he remembers actresses like Sanoja Bibile, and Mercy Edirisinghe among those whose pictures he took in those early days.
His big break came when he was hired by Photochrome Studios and worked under Sarath Perera – gaining invaluable experience in the nitty gritty of the trade- covering weddings, doing advertising shoots, even aerial photography. It was hard work, he says, but also great fun.
After 2 1/2, years Sanjaya ventured out on his own. His dream, of getting into movies had not dimmed and he took a loan to buy a Pentax LX camera. He did a short film for a friend but lost the camera to a wave while shooting – one of many such mishaps, he says. "With that I switched to Nikon," he laughs.
For the past ten years he has been a visiting lecturer at the University of Moratuwa and thoroughly enjoys guiding students following a Degree in Design at the Faculty of Architecture through the intricacies of the art of photography.
It worries him that there is a general perception, whether in photography or computer graphics that technology with all its advances will be enough to produce a good result. In Sanjaya's book, technology however advanced, is merely the tool in the hands of a skilled photographer or graphic designer. "Lots of people misunderstand computer graphics, the artist has to know how the real, traditional animation is done. We are just grabbing technology without a proper understanding of the craft," he says, adding that with various software packages being freely available, young people are not motivated to explore and understand the detail behind every action.
Leafing through his photographs, the versatility of the man and his meticulous attention to detail stand out _whether it's an architectural shot, all angles and planes, a food picture, the dish invitingly lusciously presented or a close up of a model's neck so intimately captured that the fine hairs are seen. While his work in still photography absorbs him, the dream of film-making is ever present. All he needs is some proper backing, for Sanjaya Vithana to start this new chapter in his life.