A grand musical fiesta of a different genre will hit the streets of Colombo on April 3, when colourful school bands engage in a dazzling march and band competition harmonising their creative eastern and western beats.
Young Drums 2011 scheduled to be held at Green Path from 9.a.m. to 6 p.m. is a unique opportunity open to all schools in the Western Province to showcase their creative music bands. The event is organised by International Student Identity Card (ISIC) Worldwide as a part of their maiden initiative to kick start ISIC work in Sri Lanka.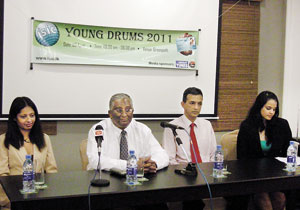 Chairman of Go Holidays Afgar Mohideen addressing the news conference to announce the event. Pic by Athula Devapriya
ISIC is a UNESCO endorsed lifestyle and educational identity card for students with a quantum of discounts and benefits locally as well as internationally. The official launch of this international student ID card will also take place parallel to the band completion.
Marketing and Product Development Manager for ISIC Nafisa Fazleali said ISIC is all about students, youth, lifestyle and fun and that they wanted to make their maiden initiative a novel experience.
"We expect about 25 school teams to be bold in showcasing an explosion of sounds to a massive audience at the event. We have plans to make this and other similar events a part of the annual calendar for ISIC," she said.
The participating school bands will compete in one of the two categories- western or eastern and the winning band in each category will walk away with a cash prize of Rs. 100,000. The judging criteria will be based on creativity, discipline, showmanship and team work.
Project Manager Michael Asirvadem said the action-packed drum competition will come alive in a carnival type setting with a range of food stalls, exclusive carnival game counters and a variety of other entertainment including performances by young musicians. A fun-filled family event, the drum festival is open to the public free of charge.
The ISIC benefit providers will also have their stalls displayed at the event. In addition, the ISIC card which is usually sold at a price of Rs.1000 will be made available to the public at a 50% discount at the event.
ISIC entitles student card holders to enjoy over 40,000 educational and lifestyle benefits with local benefit providers such as Sarasavi, Vijitha Yapa, Speed Drome, Gonuts, Sandwich Factory etc among 37 such partners while Microsoft, Skype and Apple serve as worldwide partners. ISIC holders are entitled to free software through the Microsoft Dream Spark website.
By producing proof of student status such as school record book, school ID, university offer letter along with two passport size photos, those above the age of 12 can obtain an ISIC.
The International Youth Travel Card (IYTC), the International Teacher Identity Card (ITIC) are other cards with similar benefits for others. ISIC is represented by Go Holidays Pvt Ltd in Sri Lanka. Young Drums 2011 is organised under the patronage of the Ministry of Education. The media sponsors for the event are the Sunday Times and Yes FM. Further information on the event can be obtained via 0772069335 or 0773427433.