Destitution should not be one's fate- as a nation it is not an individual responsibility or responsibility of the government, but a social and a collective responsibility that each individual holds towards mankind- to help our own kind overcome their difficulties.
However much we are conscious of this fact, precious few stretch out a hand to help. Consultant Paediatrician at Lady Ridgeway Dr. Harris Pathirage who is also the founder and President of the "Child Health & Welfare Foundation" is one who is making a difference.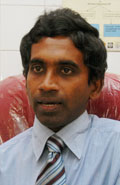 Dr. Pathirage
The story begins with Dr. Pathirage's first appointment to Hambantota as paediatrician in 2002 when he was first struck by the shortcomings of the people in the area. The Paediatric Unit and the Special Care Baby Unit (SCBU) he found, functioned with several shortcomings - there were no glucometers or separate stethoscopes to examine premature babies. In many instances life- saving equipment did not work. Mosquito-borne diseases were endemic and he recalled how work was badly affected by frequent trade union actions. Lack of drugs, inability to do investigations, lack of transport facilities to transfer critically ill patients to nearby intensive care units were all serious issues he faced.
Parents were unable to afford prolonged care and at times could not even find the money to meet the cost of medicine, hearing aids, spectacles, or milk for their malnourished children. Children with congenital heart disease were put on long term waiting lists in the government hospitals for cardiac surgery. To add to it, they were threatened by natural disasters as well.
"In a situation like this I thought the best thing was to give optimum care for this community- by improving the children's ward and premature baby unit, and as a result "Children's Ward Development Foundation" and "Heart Surgery Fund" were initiated in 2002 from donations. The incumbent Pediatrician at the hospital serves as the president of the foundation, Dr. Pathirage said.
The objectives were to fulfill the basic needs of the Paediatric ward and Neonatal Unit, to provide financial assistance to needy families, and to overcome the delay in cardiac surgery in children with congenital heart disease, as the operations cost nearly Rs. 500,000 each.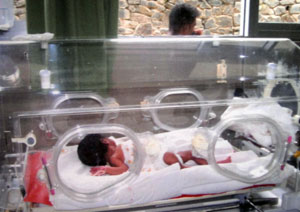 The premature baby unit at Balangoda hospital
The same fund was initiated in Monaragala, Balangoda, and Panadura-Kethumathi hospitals as Dr. Pathirage noticed worsening conditions in these hospitals when he was transferred there. Dr. Pathirage is grateful to both the government and private sector, to the electronic and print media and Sri Lankans living here and abroad who supported the cause. As a result they were able to save 43 children who suffered from cardiac heart problems (27 from Hambantota, 2 from Monaragela, 10 from Balangoda and the rest from Panadura) and assist nearly 400 families in various ways.
Due to many requests received from the public "Child Health & Welfare Foundation" was formed last year in Colombo so that poor children from all over the island could benefit. The objectives were not only to uplift the infrastructure of the children's wards and premature baby units of the hospitals in Sri Lanka but also to provide financial support for sick children from poor families setting "overall care of the sick child" as their major theme.
"Overall care of the sick child does not mean providing treatment for coughs and colds and treating medical conditions but should also encompass his emotional, psychological, social wellbeing and address the financial problems of the family," said Dr. Pathirage underlining that he would like to see the project expand.
In the near future they aim to help children with long term disabilities- hearing/visual impairment, chronic disabilities such as weaknesses in the muscles, long term mobility impairment, and provide speech therapy and physiotherapy for those who are unable to afford to come to hospital on a regular basis. The foundation plans to provide educational support to students who have undergone major surgery by providing scholarships and also to support the children of war heroes.
"If the child needs care- and if the parents are unable to afford expensive treatments, the necessary drugs, investigations, surgery or appliances, the aim is to help that category," said Dr. Pathirage.
The Lady Ridgeway Hospital has also initiated a programme to help children with cleft lip and palate problems. Children from across the island are referred to LRH.
More information on "Child Health & Welfare Foundation" 437/9 Akuregoda, Talangama South, Battaramulla.can be obtained by writing to Dr. Pathirage, email chwfsl@yahoo.com, harrispt@yahoo.com or by calling 0777643020. Donations to help the cause could be sent to:
Child Health & Welfare Fund, A/C No: 085020175590. Hatton National Bank, Talangama Branch.