Garden design has been an important Japanese art for many centuries. Traditional Japanese landscape gardens can be broadly categorized into three types, Tsukiyama Gardens (hill gardens), Karesansui Gardens (dry gardens) and Chaniwa Gardens (tea gardens). Japanese gardens derive their beauty from a mixing and blending of different elements: Sand, rocks, water, ornaments such as lanterns, water basins (tsukubai), and bamboo fences, natural plants and surroundings. Part of the beauty of the Japanese gardens comes from the symbolic expression of religious Buddhist and Shinto beliefs.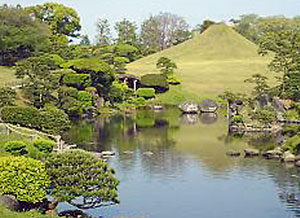 Tsukiyama (Suizenji Koen, Kumamoto)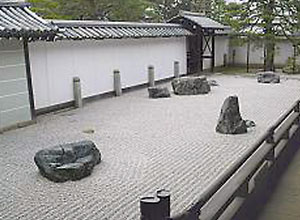 Karesansui (Nanzenji, Kyoto)
The design of the Japanese gardens is based on three basic principles, reduced scale, symbolization, and borrowed view. Gardens in reduced scale represent famous scenes and places in small and confined spaces. Mountain views and rivers are miniaturized using stones, sand and gravel. Symbolization is used in almost every Japanese garden.
Raked sand or gravel symbolizes rivers, groupings of stones and rock can represent islands. Shakkei or borrowed view is the use of existing scenery and plants to supplement the garden. The garden design is made in such a way that the existing scenery becomes part of the total design.
Tsukiyama Gardens
Ponds, streams, hills, stones, trees, flowers, bridges and paths are used to create a miniature reproduction of a natural scenery which is often a famous landscape in China or Japan. The name Tsukiyama refers to the creation of artificial hills.
Tsukiyama gardens vary in size and in the way they are viewed. Smaller gardens are usually enjoyed from a single viewpoint, such as the verandah of a temple, while many larger gardens are best experienced by following a circular scrolling path.
Karesansui Gardens
Karesansui gardens reproduce natural landscapes in a more abstract way by using stones, gravel, sand and sometimes a few patches of moss for representing mountains, islands, boats, seas and rivers. Karesansui gardens are strongly influenced by Zen Buddhism and used for meditation.
Chaniwa Gardens
Chaniwa gardens are built for the tea ceremony. They contain a tea house where the actual ceremony is held and are designed in aesthetic simplicity according to the concepts of sado (tea ceremony). Chaniwa gardens typically feature stepping stones that lead towards the tea house, stone lanterns and a stone basin (tsukubai), where guests purify themselves before participating in the ceremony.
(The writer is President, Sri Lanka Bonsai Association)