Many have tried to impersonate Percy Abeysekera- and failed. Emulating the wit, talent, sheer gall and charisma of Sri Lanka's No. 1 one cricket fan has proved to be impossible. Over the past 50 years, Percy aka Percy Papadam, now all of 74 years, has thought up taunting rhymes that have ruffled the feathers of rival teams and toyed with their psyche, all albeit with a generous dose of humour, of course—after all, that's Percy's style.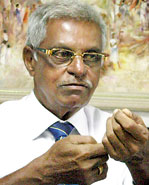 Percy today
With the 2011 ICC World Cup underway, Percy is fully geared to escort Sri Lanka through the tournament. It's still early days in this most prestigious of cricket tournaments and Percy has vivid memories of previous World Cups, 1996 in particular (who can forget that?) not to mention other matches throughout the decades since he's become the country's iconic fan.
Not all of them have been fun, he tells us. During the 1996 ICC World Cup, Percy and two of his friends faced hundreds of irate Indian fans at the Eden Gardens ground in Kolkata, during the first semi-final. "At the beginning of the match everything was fine, but at the end my shirt was like a fruit salad," says Percy recalling how the sorely disappointed Indian spectators had flung grapes, apples and dates at them when the Indian wickets began to tumble.
Clive Lloyd, the match referee, declared Sri Lanka the winners after the Indian spectators had disrupted the match, even lighting fires in the stands. "Just as it was over, Arjuna (Ranatunga) and Asanka (Gurusinghe) saw me and said, 'Uncle! Uncle! Come with us!' and they took my friends and me in their coach back to their hotel and from there to our hotel." It was one of the most terrifying matches Percy has been to but the Sri Lankan players saw to his safety.
Well known for his rhymes Percy recalls a ditty he made up when Sri Lanka was being considered for ICC member status. When after years of knocking on the door, Sri Lanka was given full Test status in 1981, Percy says he felt he needed to alter the song for the first Test match Sri Lanka was to play against England. "The whole crowd was there President J.R. Jayawardene, Prime Minister Premadasa, Ministers Gamini Dissanayake, Lalith Athulathmudali; like a Donald Bradman team.
So l wanted to sing a different version of the song. When I went up the security stopped me. Mr. Gamini Dissanayake said 'no, allow him to come'," relates Percy, adding "we don't have people like that now." Percy walked straight upto the chief guest, secretary of the England Cricket Board Donald Carr.
"I said 'good morning Mr. Carr" to which he replied 'Good morning, Percy- he called me by my name 'Percy'. And I sang- "There's a long, long way for us to go,
Before this tug-of-war could ever end.
Now the day has come, you all know,
Donald Carr, Sir,
Now we can call you 'friend'.
ICC, Sir,
Now we can call you 'friend'.
"I said 'chuck your paw' and we shook hands. I said, 'Mr. Carr, I don't know in which car you have come, I'm holding the national flag of my motherland and in respect for that, will you please stand up? He got up and shook hands and gave me a hug. J.R. Jayawardene who doesn't smile at all, couldn't stop laughing for a couple of minutes," reminisces Percy with a broad grin.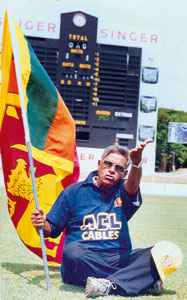 A familiar sight: Percy and the Sri Lankan flag (file pic)
Such rhymes, cheers and jibes are trademark Percy and in fact, go back a long way. "There was an instance when (Mohamed) Azharuddin came here. He was 22 years old at the time (Kapil Dev was captaining the Indian team) and had three centuries against England. He came here to get a fourth century," recollects Percy. "When I look at a person I can read him.
So when I saw Azharuddin he looked sensitive and timid. I actually dreamt of him getting out on the 3rd ball. It was on my mind and he was going to bat, and I said 'Azhar, I dreamt that you will get out on the 3rd ball'. He got out on the 3rd ball!'" Percy says with a look of triumph on his face.
Percy has frustrated and distracted many well known cricketers from across the world. But his lovable nature has won them over. Among the names he mentions are Tony Greig who captained the English team in the mid 1970's (currently a famed commentator), Andy Flower- the only Zimbabwean to enter the ICC's 'Top Ten All-time Test Batting Ranking' at number 24 (currently coaching the English team) and leading Australian batsman David Boon. Percy's poem for David, is one that is well remembered.
"David Boon,
You Tasmanian goon,
Come back soon,
Before noon"
"It was at the SSC grounds, and David Boon was going to bat, at 11 in the morning. I sang the song and he got out by the third ball," Percy laughs.
But antics aside, there's more to what makes him an iconic cricket cheerleader. Percy says cheering is not simply about waving a flag. He attributes his flair for words to the exceptional education he received at Richmond College and later St. Aloysius, Galle- back in the 1930's. That's where his love for cricket was born and nurtured. The youngest of five children, 10-year-old Percy would collect pictures of cricketers as a hobby. When he was 12 his brothers took him to a match in which Sir Donald Bradman and his team played against Sri Lanka then Ceylon in 1948.
"They came by ship to play a whistle-stop match, stopping here on their way to play against another country. I was so crazy about cricket, that my two brothers took me by train to Sara Stadium. We watched the match on the grass- in the Gandhi stand- the cheapest; 25 cents at the time. The crowd was massive. People who couldn't come in, climbed trees outside the stadium to watch the match.
"Bradman came to bat and got out for 20. That was the first match I saw and should have been the best ever."
From Percy's scrapbook
Percy's love for cricket became a passion. He played cricket in school and later for Aquinas University College.
So obsessed was he with cricket that he defied his father (a strict disciplinarian and school principal who wouldn't spare the cane on his children), and missed an important Aquinas University College entry examination paper that was on the morning Sri Lanka played against Tamil Nadu.
Percy was in two minds whether to sit for the paper or go for the match, but he was prompted by a friend to do the latter. After all, Ivers Gunasekera, "the hardest hitter on the Sri Lanka team- when he goes to bat they take the cars in the stadium car park out", had already scored an amazing 70 runs. Having passed all the papers except for the one he missed, his father was not pleased- the cane was taken out once again.
Few are aware that Percy was a talented cricketer himself. He played up to Division 3 while at Aquinas University College Colombo, and at AMW, where he was later employed- he was President of the Sports Club and their first Cricket Captain. He led them to become champions in a Mercantile tournament reaching the G division and beating Lake House at Rifle Green in 1968.
Percy would have liked to try out for the national team too but he says, "Unfortunately I was in Galle and those days there was no scope for outstation cricketers." Now however, Percy has gained equal fame.
Supporting his cricket craze was his family. He says he's grateful to his parents and siblings, his late wife whom he loved dearly, who accompanied him to most of the matches and his children and grandchildren. Minister Gamini Dissanayake was also one who encouraged him and sponsored some of his trips for matches abroad; "He used to say 'it's useless watching matches without you," Percy remembers. Chairman of ACL Cables, Upali Madanayake and his son, Managing Director Suren Madanayake have also sponsored his trips abroad for matches for more than 30 years.
And as excitement mounts with the World Cup matches gathering momentum, Percy is confident that Sri Lanka will win this World Cup, just as they did back in 1996. Whatever happens you can be sure he will be there, egging the crowds on- dancing, singing and cheering as he's been doing for half a century.