A football fanatic and the first female film director in Iran. Seems an improbable mélange?
Not for an elegant lady clad in an abhaya, celebrated Iranian film director Pouran Derakhshandeh.
Pouran Derakhshandeh visited the island recently for the Iranian Film Week organized by the Cultural Section of the Embassy of the Islamic Republic of Iran in collaboration with the National Film Corporation. The Film Week was part of the Iranian Cultural Week held to commemorate the 32nd anniversary of the Islamic Revolution in Iran, which fell on February 11, 2011.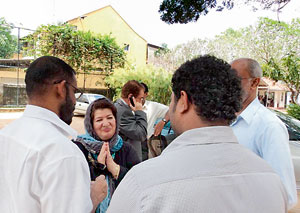 Pouran offerring a traditional Sri lankan greeting
"I love the Sri Lankan tea," she said with a big smile adding that this was her first time in Sri Lanka. It was soon evident that it was not only the tea that impressed Pouran Derakhshandeh. The artist to whom observing human behaviour is second nature concluded that "Sri Lankans are very quiet, cool and intelligent."
Pouran Derakhshandeh graduated in film directing in 1975 from the Advanced School of Television and Cinema in Tehran. Her professional career commenced with her making documentary films for television. Gradually she moved on to making feature films too. She has also taught movie making and visual communication at Universities.
"My films are usually based on social themes such as peace and harmony" she explains adding that most of her films portray the Iranian culture and life style. She is also staunch in her belief that cinema should first and foremost address the local audience. She went on to say that thereafter if it is good it would be absorbed into the international arena. "That would pave the way for the ideas of the country to be conveyed to the international audience,."
It is evident from her achievements that she has not only won the hearts of the local populace but has also been successful in securing the patronage of the international audience. Pouran Derakhshandeh is the first Iranian to make a feature film (Love Without Frontiers) in Hollywood and has won numerous awards at various national and international film festivals. She holds to her credit many citations from all the major annual international film festivals held in Iran.
Among her myriad interests and hobbies she is also an ardent bookworm! Her passion for reading no doubt proved to be a stepping stone that enabled this movie director and researcher to be a writer as well, writing the scripts and producing some of her films.
Most often cinema is considered as merely a source of entertainment and a means of relaxation. However, Pouran Derakhshandeh thinks differently. "Cinema is not merely a source of entertainment alone," stated Pouran adding that cinema is an international language and an effective tool to combat various evils in society.
She believes that cinema should mainly focus on images than dialogues so that it could convey a message to people irrespective of their nationality or language. "Cinema should set you thinking," affirms.