In his consulting room, Ranjan Karunaratne keeps a framed picture of his most famous client. Sarah, Duchess of York, went to him to help her deal with the stresses of royal life, says Ranjan, adding that he was in and out of Buckingham Palace every other week. When asked what he actually does, however, his response is simple - "my job is how to buck the paradigm."
A practitioner of alternative medicine and energy healing, Ranjan has spent over three decades in the business. Having published articles and participated in T.V programmes, his unconventional approach has won him some fans.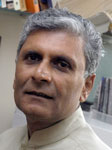 Ranjan Karunaratne
A US citizen of Sri Lankan origin with 27 years residence in Britain, Ranjan is now back on the island and says he's ready to share some of his expertise.
This March, Ranjan will be conducting a workshop organised with the Nelung Arts Centre devoted to performers of all kinds. "When it comes to performance it has something to do with an exchange of an energy between the performer and the audience where I can draw on my field (which is sometimes called energy medicine) to help people," he says, making it clear that he does not teach acting, instead he provides actors with skills that will help enhance their talent.
"In Asian medicine the foundation of health is how you breathe," he says. "Some ways of breathing are actually putting energy into what I identify as the three main systems of the body – the immune system, the maintenance system and the performance system...The way you breathe can put energy into all three systems or it can take energy away from maintenance." His focus is on an individual's involuntary breathing pattern. Breathe incorrectly and your body receives all the wrong signals and responds poorly to stress. Ranjan promises to help 'normalize' patterns so that they actually serve you rather than hinder you.
The process he refers to as 'retraining' also includes upping your daily intake of water so that you are consuming around 2 – 3 litres of water. He also works on correcting your posture which he says can result in poise, mastery, control. When it comes to treatment, Ranjan quotes the likes of Deepak Chopra and Bruce Lipton as he explains that his healing is done on the quantum level and involves the transmission of healing light and energy. Only very rarely does this actually involve physical contact, says Ranjan explaining that he will be able to work by just moving his hands over the afflicted area.
Having been an actor and a singer, Ranjan says he enjoys the arts. In this workshop he intends to use sound vibrations which he describes as a "beautiful way to heal the cell damage that results from stress – and fine-tune the sensitivity that makes a good performance great."
To those sceptical of his approach, he says, "it has not been my experience that a patient needs to have faith, a patient simply needs to have openness." Ranjan believes that his approach would be helpful to those across a wide spectrum of performance arts – "it's about getting your centre solid. From there, whether you're a singer, a dancer, a musician, everything flows.
"The workshop will be conducted at the Nelung Arts Centre, 81 Hyde Park Corner, Colombo 2, on Sunday, March 13 from 9.30 a.m. – 12.30 a.m. Fee: Rs. 1000. The workshop will end with a bout of serious stretching, says Ranjan, asking participants to come clothed appropriately. Punctuality is also of essence, as no one will be allowed to enter after 9:45.