In the days gone by, the inhabitants of Heiyanthuduwa village were always busy during the festival season – when the Munneswara, Kataragama and Ratnapura were being held. The demand for their drums- the traditional bera, dola, raban, thammattam the villagers made would have them working round the clock. As 40-year-old Liyanage Pradeep Prasanna recalls, many families in Heiyyanthuduwa were in the drum making business –passed down for generations with his grandfather Liyanage Meyris Perera being the pioneer who nurtured the industry in this village.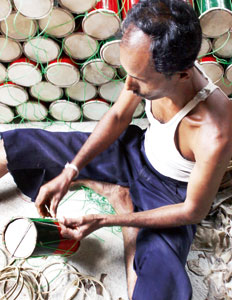 Pradeep runs a home-based drum making business with the help of his wife. Pix by M.A. Pushpa Kumara
"While I was schooling, I would help my grandfather and father to make bera and raban. It was all self-taught. The villagers used to take lorry loads of items to places like the Munneswara devale, Kataragama, the Ratnapura Saman devale for the perahera season. For Vesak and Poson we went to Anuradhapura and Polonnaruwa. I used to accompany my father on these trips," says Pradeep.
So why is this village which was once a hub of activity so hard hit with just a handful of families in the trade?.
The industry has not been sustained after the veterans like Pradeep's grandfather and father passed away. The lack of demand for such items with modern equipment in the market has also had an impact. The young generation lacks the enthusiasm and many have moved away to take up jobs outside the village, Pradeep says.
The eldest son in the family, Pradeep studied up to Grade 10, and then decided to dedicate himself to the family business after his father Liyanage Rabiel passed away while his brothers took up government jobs.
Today, Pradeep runs a small home-based drum making venture with the help of his wife Irangani Premakanthi in Kajuhena, Heiyyanthuduwa.
Irangani who moved to Pradeep's village from Gampola after her marriage learnt the art of drum making from her husband. "I studied commerce subjects for A/Ls, but now I' m full time into this business to support my husband as this is the only income we have," she says, adding she is no genius at drum-making. Her task is to give the finishing touches, to paint or help process raw material. "The art of bera making needs a lot of skill and experience," she says adding that it is her husband who is competent in the art.
The sales peak during avurudu season. That is when they target polas (village fairs) in places such as Anamaduwa, Galgamuwa, Nikaweratiya and Thambuththegama. At other times, they sell their products to shops in Colombo, Bellanwila, Wewaldeniya and Nawagamuwa, Sometimes Irangani and her daughter join Pradeep on his visits to festival fairs in Ratnapura. "Going for festivals is interesting. We get to stay there for a few days and watch peraheras while doing business," she says adding that they look forward to such events.
However, life for these traditional craft manufacturers is hard. They have to bear the cost of raw material such as frames, leather, wood, etc, but are unable to make a decent profit because the middle men involved in the business instead sell the items for a higher price keeping a large profit.
Asked if they take part in crafts exhibitions to display their work, Pradeep laments that they do not get such opportunities as getting a stall is expensive. During the rainy season it is extremely difficult for them to continue working, he adds. Lack of pipe-borne water and money to invest in machinery are some of the other hardships they face. "If we can manage to process the goat skin (used in the making of drums) on our own it would be less costly. But without proper water facilities we find it difficult to do this," Irangani says.
Their family venture is being assisted by some neighbouring families in the village from time to time. "Although they are employed, some of them come to the workshop during their free time or after work to help us out," she says.
One such helper is Kosala Sampath, is Pradeep's nephew. "I sat for my G.C. E. Ordinary Level exams in December. To keep myself occupied until the results are out, I work here," young Kosala says adding that he can make about 30-40 small drums a day.
L.W. Perera, a relative of Pradeep from Yatihena Malwana, close to Kajuhena has been working with Pradeep for the past 10 years. His job is to work in the pattalaya and to decorate bera with ketayam, quite a strenuous chore. "None of my family members continued with the industry after my father; so I decided to remain in this job by working with Pradeep full time," he says.
Drum making, which was once an integral part of our culture is dying out. The only hope is that some kind of assistance will be given to the handful of manufacturers still dedicated to their task.
State assistance?
The Sunday Times contacted the Chairman, National Crafts Council Buddhi Keerthisena to find out what assistance is being given by the Crafts Council to traditional drum makers like Pradeep.
Mr. Keerthisena said the Gampaha District officer attached to the Crafts Council would be directed to visit the village and take necessary steps to look into their grievances.