Brazilian flautist Celina Charlier and Sri Lankan pianist Eshantha Peiris have performed regularly as a musical duo since 2005 (when they were both students at New York University), and have to date recorded and released two albums of Brazilian classical music.
They will be performing as a duo for the first time in Sri Lanka on Sunday, February 20th at 7 p.m. at the Lionel Wendt Theatre. The programme includes compositions by Georges Bizet (France), Edmundo Villani-Côrtes (Brazil), Ricardo Tacuchian (Brazil), Ira Newborn (USA), Astor Piazzolla (Argentina), and the world premiere of 'Alumbramentos' by Ronaldo Miranda (Brazil).
Celina Charlier has an MA and PhD in Flute Performance from New York University (NYU). She has performed throughout Brazil, Argentina, USA, Italy, France, and Malta playing early music to electro-acoustic avant garde genres, as soloist, chamber musician, and orchestral player.
She has also worked as an arranger and was the director of an NYU orchestra for four years. In addition to performing and teaching master classes around the world, Ms Charlier (currently based in New York) is an Artist in Residence at St Joseph's Church. Tickets are available at Musicmatters (Borella, behind the Baseline Road Commercial Bank. Tel: 2686615. Open Mon-Sat from 10 a.m. onwards).
From top level executives to grass roots: NIPM offers opportunities
By Vimukthini Nonis
The National Institute of Plantation Management (NIPM) held their awards ceremony on January 22 after a lapse of three years. Minister of Plantation Industries Mahinda Samarasinghe was the chief guest and presented Diplomas and other certificates to some 300 students who had followed NIPM courses over the past few years.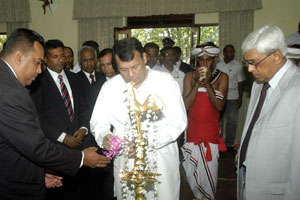 Minister Samarasinghe lighting the oil lamp at the awards ceremony
The plantation sector is a vital cog in the economy and the NIPM, a semi-government institution with branches in Athurugiriya and Bogawantalawa makes a significant contribution in training personnel and providing expertise to the sector.
NIPM's Athurugiriya complex is built on a 13 acre property. Established in 1979 by the National Institute of Plantation Management Act its main objective is to provide learning and training opportunities for plantation sector personnel from top level executives to workers at the grass roots; to this end they conduct various training programmes and training related activities.
Among the courses offered is the B.Sc in Plantation Management (External) with affiliation to the University of Wayamba, Diploma courses, professional examinations, skill development training programmes, special programmes for small stakeholders and plantation companies as well as courses related to tea, coconut, rubber, sugar cane and oil palm etc.
According to recent statistics nearly 75 to 100 state managers retire each year and so one of their objectives is to train school leavers as assistant managers to step into their shoes.
NIPM's Chairman Ranjit Samarasinghe is a veteran planter. He has also had the benefit of training both here and abroad and is thus well equipped to contribute to the improvement of the institute.
NIPM is an important institute for the entire plantation sector. If it is to be used in a fruitful manner it is necessary for all who are linked to the plantation sector to participate in its operation as the input given by people in different sectors is very important to sustain its operations, Mr. Samarasinghe said.
"We have a good and committed staff.
All they need is leadership and a sense of direction and if we have the necessary funds, the sky is the limit," said Mr. Samarasinghe, greatly appreciative of the support extended by Minister Mahinda Samarasinghe, highlighting that "it has a huge impact on them".
Today, the labour force is interested in gaining knowledge and are very attuned to what's going on around them. Society has changed and the approach to life is different. It is necessary to understand the scenario, and as a result our training programmes also have to change, taking into account the changes that have taken place in the plantation, Mr. Samarasinghe said.
There is a significant improvement in attitudes from top to bottom, he notes and the management style has changed considerably compared to what it was. The unions also have a major role to play and they should request for higher wages and should also look to help their personnel more, he feels.
With local companies managing the plantations, the management have a vital role to play as responsible citizens - to look after the interest of the company they are working for and the interests of the country and its people, he said.
It is the responsibility of the management to call us in to train their people so that they can improve the quality of their operations, Mr. Samarasinghe added. Director of the NIPM P.W.A Kapilawanshe said that one of alarming situations that they encounter is a severe shortage of labour for plucking and tapping in the estates. He believes it may be due to cultural problem that the youngsters tend to hesitate to enter the field.
Many of the present pluckers and the tappers are more than 60 years of age and the younger generations dislike field work, he pointed out. "We are trying to change the attitude of the youth by changing the names they are called. Instead of calling them pluckers and tappers, something like field assistant, crop harvesting assistant should be adopted. We could also give them uniforms to respect their profession," he said, adding that there should be a permanent solution to the problem. "Otherwise after another 10 or 15 years we would have to give up the plantation sector because of the severe labour problem," he said.
Training programmes are conducted for foreign students from Ethiopia, Nepal, Bangladesh, South Africa and Indonesia and they have also made arrangements to conduct regular continuous programmes for foreign students especially, in tea manufacture and tea cultivation, he said.
"Cancer is not a death sentence, it is a diagnosis"
The Sri Lanka Cancer Society commemorates World Cancer Day on Feb. 4
"How much time do I have?' was the first thought that crossed my mind when I was diagnosed with cancer. I thought my world had come to an end, but I was wrong. What many of us fail to realize is that cancer is merely a diagnosis; it is not a death sentence. I was diagnosed early, I received treatment on time and with God's grace I am now in remission. But most importantly I now have a new purpose in life - to fight against the disease, to fight against the stigma and to fight the inaccurate social myths that lead people to fear cancer," said Ramani Sunila Fernando, cancer survivor and Assistant Secretary of the Sri Lanka Cancer Society.
The Sri Lanka Cancer Society was founded in 1948, and since then has been committed to achieving three objectives, to prevent cancer, to help cure and to grant relief of pain. As such, it has five branches throughout the island staffed by over 200 dedicated volunteers who work towards achieving these goals. It is disconcerting to know that cancer is a disease that is claiming more and more lives in Sri Lanka. "A reason for this is that many people are still ignorant about the disease, about the treatment available and mainly about the fact that cancer can be treated and overcome when detected on time," said Vice President of the Sri Lanka Cancer Society Mr. Mannakkara,.
The Public Education Committee of the Society works towards imparting knowledge and information regarding cancer, as well as developing desirable attitudes among people so that they know that cancer can be cured if detected and treated on time.
The Society also runs a free Poly Clinic every second Sunday of the month at the Society premises on Bullers Lane, where people are screened for cancer.
The society established a Cancer Home in Maharagama that can house about 85 patients at a time. Patients at the home are provided with food, clothing and care by the Society and transported to the Cancer Iinstitute daily for treatment. The Shantha Sevana Hospice provides palliative care for terminally ill patients. The hospice has 34 beds and a well trained nursing staff to take care of these patients.
The Society is also involved in providing relief and rehabilitation to patients once they go home after treatment.
"There is a belief in our society that only bad, immoral people get cancer, because they deserve it. We are trying to dispel that notion as it is simply not true. Cancer doesn't discriminate, it can affect anyone - my mother was one of them" said Justice Shirani Tilakawardena, President of the Sri Lanka Cancer Society. "Early detection can save lives, but unfortunately because of this invalid idea many people are ashamed or fearful to hear that they have cancer. As a result they don't receive the treatment on time," she stated.
All projects of the Cancer Society are funded by donations and it costs over Rs. 40 million a year to carry out all the welfare activities. The society is organizing a Cancer Walk to create awareness and to educate the public on the subject of cancer.
Exhibition by Manel
Well known arts and crafts teacher Manel Gamage together with her students will present "Crafts in Action 2011", an exhibition of arts and crafts at the National Arts Gallery on February 12 and 13 from 9 a.m. to 6. p.m.
A past pupil of Museaus College, Manel has introduced a variety of new embroidery techniques such as blackwork, Asisi embroidery, Kashmiri work, Chamakthi embroidery, ari work, needlepoint etc.
A treat for underprivileged people of Thimbirigasyaya
The poor and marginalized of Thimbirigasyaya Parish had an unexpected treat last month. A donor who wished to remain anonymous donated Rs. 100,000 to provide a buffet lunch for the marginalized in the parish.
The poor from all communities, who were on the parish records, were sent personal invitations to be present on January 24 for a buffet meal at the Parish Hall. The needy recipients were drawn from parish projects, Pension Scheme, Meals on Wheels and the Society of St. Vincent de Paul. Some who could not make it on their own were brought from their homes.
Those who were not able to come at all had their meals taken to them by some ladies in the committee handling the lunch. The lunch, prepared by a caterer, was laid out buffet style with full service provided.
As there was still money remaining, they were also given a pack of dry rations to take home. It was indeed a treat for 100 under privileged people of Thimbirigasyaya.
Appeal for kidney
Father of four, A.M. Sujeewa Jayalal Peris, from Thimbirigaskatuwa in Negombo is suffering from end-stage kidney failure and requires an urgent kidney transplant.
Receiving treatment under Consultant Nephrologist Dr. A.L.M. Nazar, this 40-year-old breadwinner is desperately in search of funds. For although the surgery will be done free of charge at the Nephrology and Transplant Unit of the National Hospital in Colombo, the costs for anti-rejection therapy, custodial solution and investigations have to be borne by the patient.
This family which is in dire need requests a helping hand from generous people. Donations may be credited to Account No. 0130-32531117-101 at the Seylan Bank, Negombo branch. The family may be contacted on 0773533053.
Awarded "Kalabushana" State Award
S. Raymond Silva, the well known journalist, author and poet was awarded "Kalabushana" State Award by the Department of Cultural Affairs at a ceremony held on December 15 at the John de Silva Memorial Theatre.
Mr. Silva started his journalism in his early teens and also wrote several novels, among them "Boodale Maraya", "Ihiruna Kiri', Detu Samaththu" and a narrative poem titled "Iyaththuwa".
Public seminar on vaccines
The Vaccine Forum of Sri Lanka held a public seminar on vaccines on January 30 at the Colombo Public Library auditorium. President of the Vaccine Forum Professor Jennifer Perera, Senior Professor of Microbiology, University of Colombo explaining the importance of public education on vaccination said that in the global context when compared to millions of deaths occurring due to infective illnesses, the benefits of vaccination is only second to the deaths prevented by providing safe drinking water.
Dr. Sudath Peiris stated that vaccination has already eradicated smallpox from the world and said that Sri Lanka's National Immunization Programme has very successfully reduced many deadly diseases such as polio, diphtheria, whooping cough,tetanus and measles.
Professor Sanath Lamabadusuriya, Emeritus Professor in Pediatrics, University of Colombo explained the usefulness of other vaccines available outside the National programme such as Pneumococcal, Rotavirus , chickenpox, Hepatitis A vaccines and also the vaccine available in preventing cervical cancers in females.
Rukshan to speak on leopards in Sri Lanka
'Leopards and their conservation in Sri Lanka' will be the topic of a lecture by wildlife photographer, author and conservationist Rukshan Jayewardene on Thursday, February 10 at 6 p.m. at the Institution of Engineers, Sri Lanka, 120/15, Vidya Mawatha, off Wijerama Mawatha, Colombo 7. The lecture which is open to the public free of charge is presented by the Wildlife and Nature Protection Society of Sri Lanka.