Even though she's in a simple blue dress, Candace Bushnell, the internationaly bestselling author of Sex and the City, cuts a glamorous figure as she walks into the Hall de Galle café.
All eyes are on the slim, blonde and sexy writer as she saunters over for her interview during last week's Galle Literary Festival, where she drew some of the biggest crowds, her sessions having sold out well ahead.
Boldly advocating the emancipation of women from social dictates through her writing, Candace sat down with the Sunday Times to talk about her latest book 'The Carrie Diaries', the popular Sex and the City TV series that was based on her novel and her view of feminism in the Big Apple and South Asia.
Published just last year, 'The Carrie Diaries' is a novel based on Carrie Bradshaw, the protagonist of the Sex and the City novel. The book is about Carrie's younger days, as she moves out of her comfort zone of a small town and tries to make it as a writer in the starkly different, fast paced and unsympathetic city of New York.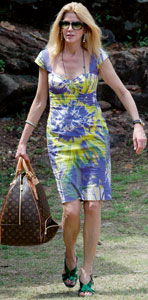 Taking it all in her stride in Galle Fort: Candace Bushnell cuts a Carrie Bradshaw figure-- the protagonist of her books-- with her designer handbag, shoes and all
"The book is completely fictional but I draw from my own experiences," explains Candace. "I always knew I wanted to be a writer and so I came to New York. I started out like Carrie, by sending my writing to newspapers and publishers in New York and visiting them."
A real-life romantic comedy, Candace's success story started there. Having become a columnist for the New York Observer between 1994 and 1996 Candace wrote about her topsy-turvy dating experiences and her friends in the metropolis famed for its wild nightlife. The quirky column had the winning plot found only on the silver screen; and that's exactly what it became. The column was published as an anthology in 1997 and was promptly adapted into a popular TV series on HBO in 1998 and later spawned two successful films. By which time, Candace was no less a celebrity.
Candace worked on the script for two years and worked closely with Sarah Jessica Parker who starred as Carrie Bradshaw. "We did spend time together. She learnt more about me and she even had the same jewellery and watch made for the show," says Candace, describing how the actress went as far as to have identical replicas made of her jewellery and accessories to portray her more accurately in the TV series.
Having mentioned her 'Mr. Big'; Carrie's wealthy lover with whom she has a tempestuous yet tremulous relationship at the Sex in a Sarong party held the night before, Candace revealed that she did indeed have her own 'Mr. Big'. She adds, however, that he dumped her, leaving her heartbroken. But it was not long before she found her "Mr. Bigger", a principal ballet dancer with the New York City Ballet, Charles Askegard, and they were married within months.
However, while Candace's personal love story unravelled, all was not well in her life as an author. 'Sex and the City' had received criticism that the book promoted promiscuity among women. The acceptance of the book and the TV series in the more conservative south Asian countries such as India and Sri Lanka though has been phenomenal. Candace accounts for this by saying "I think that a good book is a good book. Books by French authors from the 1800s are still read today.
I think books resonate and relate to characters. Whether Sri Lanka or New York you still have societies, with people who are ambitious and such," explaining that even though there are disparities between cultures, problems faced by women have similar foundations and that's what women worldwide identify with her books and are able to relate to them. "Many women's struggles are universal. In different countries some women are not educated, not allowed to go to school, there are many places where women face difficult obstacles."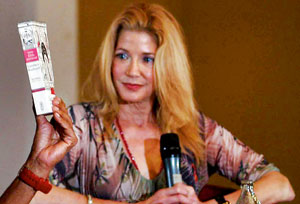 Candace discussing her books at the festival. Pix by Saman Kariyawasam
Not quite addressing the question of whether promiscuity is advocated in the pages of her novels, she says, "In New York, young women in their 20's make more money than men at the same age. They have more opportunities, they are not tied to a man, they are not defined by a man. They are defined by themselves and that's how it should be for all women."
Currently working on another book, Summer in the City which is expected to be released in April, Candace is under contract to write three more books, though she is unsure as to whether she will continue on the same theme she's been following since her first book.
But it's probably this theme that propelled Candace into the limelight. When interviewing guests at the Sex in a Sarong dinner at Taprobane Island, Weligama most admitted they had not read her books but were fans of the Sex and the City and Lipstick Jungle TV series. While we can't pin it down to a world view, it is what some folks down here in Sri Lanka had to say.