Sitting in a circle in the garden of the Hall de Galle (also known as the Lit Café) is a group of six Britishers, including two couples. They look as if they have been friends for years, but in fact met only the day before, at the opening of the Galle Literary Festival 2011.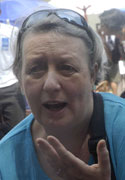 Hilda Harding, from northwest Scotland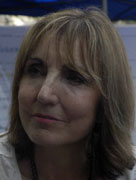 Mary Halsey, interior designer, Northampton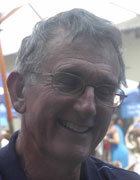 John Howkins, turf accountant, Royal Tunbridge Wells, Kent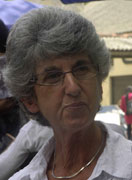 Marie Heffernan, mental health nurse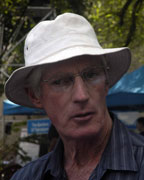 Tom Heffernan, head injuries nurse, retired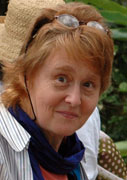 Liz Heron, journalist based in Hong Kong, Education Editor, South China Morning Post
John and Carole Howkins and Tom and Marie Heffernan, who describe themselves as "retired", are travelling together, and had the festival worked into their itinerary, while Hilda Harding and Mary Halsey, travelling separately, say they stumbled on the festival "by accident." They are all delighted to be in Galle at the same time, partaking of the lit chat and soaking up the sunshine.
"I come from northwest Scotland where it is cold and grey, and to be in Sri Lanka at this time of year is bliss," says Hilda Harding, who is attending Buddhism classes here. "I have an interest in Asian literature, so discovering the Galle festival is most fortunate."
All six agree that a four-day literary festival is "just right.""In Britain, literary festivals tend to be spread over a couple of weeks," says Hilda Harding. "It is a lot of time to set aside for any kind of programme.
The Galle festival is ideal. It is four days, it is intensive, and you have to make choices, and each choice therefore means something special to you. I like that."
Mary Halsey, an interior designer from Northampton, says the festival atmosphere is "fantastic," and that "there's something for everyone." Smiling at her companions, she adds, "It's also a great meeting ground. You make friends from all over."
The Howkins and the Heffernans say they "enjoy their life", and that they are relishing every moment of the festival and their visit. "It's very friendly here at the Galle Festival," says John Howkins, a turf accountant based in Kent. "Also very cultural and very enjoyable."
"The people we have met so far have come here with a purpose," says Tom's wife, Carole, a portrait photographer. "Even if they are holidaying, they are taking the literary festival very seriously."
The Heffernans are from Ireland, and have both retired from related careers in mental health nursing. "We are very happy to be here," says Marie Heffernan.
"We never expected anything like this, and it's just great." Tom Heffernan says waggishly, "People come to the tropics for sun, sand and sex, and my wife and I have had all the sun and sand we can ask for," he adds, flashing a mischievous smile at his wife. There's a roar of laughter from the party of six.
The Howkins and the Heffernans are also "word people" in that they love reading and playing Scrabble whenever they can, wherever they go. If they have to choose a single word among them to describe the combined experience of Galle, the Galle Fort, and the Galle Literary Festival, it would be "terrific," they chorused. Saying that, they excused themselves and rose to go walking around for "more of your wonderful sunshine."
Three close friends from England have saved the Galle Literary Festival as the climax of their two-week vacation in Sri Lanka. Having done the rounds of the ancient cities in the north, they are savouring more history in the south, inside the Galle Fort, while taking in as many events as they can of the four-day festival.
Liz Heron, a journalist based in Hong Kong, is a repeat Galle Lit Fest guest. "I have returned to the festival with two friends after having had an enchanting experience in 2008," she says.
About the 2011 programme, she says, "The BBC Forum events and the Malaysian theme gave an added dimension this year, and the quality of debate and the fertile atmosphere were better than ever."
"This is one of the best literary festivals I have ever been to," says Yvonne Gordon, from London. "It is an eclectic blend of literature, laughter, art, music and good vibes."
Esther Trenchard, a public health consultant from London, says, "I have enjoyed the festival enormously, particularly the spirit of inclusiveness across cultures. One of the most memorable things was listening to Rabindranath Tagore sangeetha under the trees."