"First of all I could never find a pair of jeans that fit me," says Dimitris Zoz, explaining what compelled him to start his own fashion label. Here for the HSBC Colombo Fashion Week that enters its final night tonight, the young interior designer from Italy whose collection was shown on Friday's opening night said he decided to stop complaining and do something about it.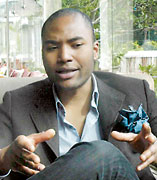 Dimitris Zoz
Showcasing the latest trends in fashion, 22 Sri Lankan designers and 12 international designers are presenting their collections at the HSBC Colombo Fashion Week at the Colombo Hilton.
"I started out making my own jeans. Using old jeans and altering them," Dimitris says. Then he ventured into making his simple, sleek and meticulously detailed work available for others. Against branding his product Dimitris is more interested in producing pieces of clothing known and recognised for unrivalled quality.
Three 'Dimitris Zoz' labels are sold with each pair of jeans and they can be attached to match the colour of your accessories or not worn at all. "I want you to buy my jeans because they fit perfectly. (The brand) is not recognised at first sight but for me that's okay," he says, adding "those who really know me will be able to identify my design by the detail that goes into it." Interestingly Dimirits designs are for "mature customers", his target age group being men and women of above 30 years.
With three years of research on denim, Dimirits found several different variations to a material that was not considered highly, and a garment (jeans) regarded as a rough and ready clothing item. He says he's changed the feel of denim fabric, by making it look and feel like leather.
Highly taken by the versatility of denim, Dimiritis has used the fabric for furniture, especially couches.
Dimiritis's line will be on display at the Hilton Colombo for the Colombo Fashion Week and for more details about his work visit his website, http://www.dimitriszoz.com.