If you look carefully at the first letters of the four words in the title of this article, you will see that they form the word LIFE… That is: L, for liberty; I, for independence; F, for freedom; E, for emancipation. That's life.
As we continue to celebrate (if 'celebrate' is, in fact, the right word?) the 63rd anniversary of Sri Lanka's liberation from around 440 years of rule by a succession of Western colonial and commercial powers, we would do well indeed to reflect on what meaning the words 'independence' and 'freedom', etc., have for us in this country today.
Liberty
One, is the state of the nation one of such 'liberty' that the liberties we take with the law of the land have placed us and others around us in a state of jeopardy and lawlessness? If so, rather than pointing fingers at others, we could ask ourselves the question whether we are taking liberties with the laws and by-laws of Sri Lanka. Are we, like some Grand Panjandrums whose names I'd rather not mention in vain, considering ourselves a sort of Great Lawgiver so savvy and smooth and supercilious that nothing and no one can touch us?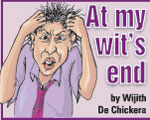 No? Why, folks, we tell a lie… remember, remember, the 31st of December, and the polite copper whom we took for a ride – er, drive – to prove that we were not drunk? "Shorry, offisher, I'm not so think as you drunk I am!" Who doesn't violate traffic regulations from time to time, dears? It would be suicide not to do so, no? No. And yes, you are breaking the law. Even when you think no one is watching. Someone said, you are who you are when no one is watching. What's on each of our consciences? Can we continue to point the finger at only the powers that be? Somehow, I don't think so.
Independence
Then again, is the pride that we often take in our so-called 'independence' preventing us from fully enjoying the blessings of being a community of persons, a congregation of insular folks? If so, too, we could pause for a few moments to reflect on what we, as citizens of town and country and patriotic Sri Lankans, do to make sure that we are not dependent on anyone for anything at anytime: Could the supposedly best of us be missing the point – that the spirit of unity behind the commonwealth of our land intends for us to be an interdependent group of people who are sometimes, in certain areas, humble enough to help… and ask for help? Is that why abject poverty, unprofessionalism, snobbery, bureaucracy, and waste among other evils in our society persist? Because it's dog eat dog, and the devil take the hindmost? Darwin would have been proud. Und Nietzsche. Mein Gott!
Freedom
In the meantime, can we really believe that it is political power, or social strengths and skills, or cultural customs and traditions and rituals, or economic emancipation, or anything else, which will truly establish the 'freedom' that we so highly value? As a religious race (and even the atheists and agnostics whom I know are a pretty ethical bunch, even if their world view is based on airy nothingness), we must remember that our respective faiths and philosophies each teach that only the truth will set us free. Pity, then, that media freedom (as just one point) is either a) absent without malice; or b) bandied about by both camps in the vague hope that either one or the other will be believed; or c) caught between telling the truth, sparing the rod, and minding the national interest; or d) done in by vested interests; or e) eking out a base living by singing for their supper. Shh, don't tell anyone I told you so. Act blasé. Brazen it out. Chicken.
Emancipation
As we reflect on these mundane matters in the long weekend after the hoo-hah of the parades, and the bumf and pageantry have been done, and the hubris furled and the grandiose road maps to progress and plenty and prosperity rolled away until February 4th next year, consider these with humility and contrition and trembling and fear and tears.
If you and I can honestly say that we are without fault or any sense of culpability for the state of the nation and sincerely believe that we have no responsibility to stop, take stock, make amends where necessary, retrace our steps, repent in sackcloth and ashes, essay a fresh start, and begin to build and rebuild the country that we all love and say we love, into a nation of which we can all be justifiably proud and in which we can all safely and soundly live, then fine…
But if not – ah, then it's past high time to stop pointing fingers at crooked cops and corrupt politicos and nepotistic dynasties and crony-filled cabals in power as well as out of it. And pick up the pieces of our own lives, pick up our socks and pick up the pace, and live and move and work and have our being in such a way that we will be able to face each other once again – And say, with truth but no shame or guilt, that we have chosen LIFE. Liberty. Independence. Freedom, Emancipation.
Happy fourth of February, folks!