Former Nalandian, CR & FC, CH & FC player Milinda Jayasinghe will lead the strong Air Force outfit in 2011 Rugby Season. The side will take wing to New Zealand to have a training camp starting from February 15.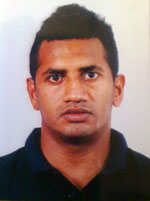 Milinda Jayasinghe
The side will be once again coached by Former Trinity Rugby "Lion" and Kandy SC player Imthisam Marikkar. Milinda represented his alma mater 1994-1998 leading the Campbell Place School (Nalanda College) in 1997. He started his club career at CR & FC becoming man of the tournament in the under 24 tournaments not once but twice in 1996 and 1997.
After crossing over to CH & FC in 1998 Milinda played for 12 long years for the Maitland Crescent Club. He led the outfit in 2004. He was also a member of the champion outfit in 2000 under Nazeem Mohamed and Ajith Upawansa.
He was an automatic choice for the Sevens rugby in the country for the last 10 years. He also got a wealth of experience in playing rugby in New Zealand representing Petone Rugby Football Club in Wellington (2003-2004).
Milinda crossed over to Sri Lanka Air force who turned tables and became a side to be watched out either for League or Knock Out tournaments. He will have players in the caliber of experienced Radhika Hettiarachchi, Navinda Pullikutiarachchi, Jayantha Ranaweera, Prasad Thalagalarachchi, Rajitha Sansoni, Shenal Dias and Chetiya Wadugodapitiya to have a go at the League and Knock champions this year.