Sri Lanka's present vice captain and man who led the island nation to the last Cricket World Cup final in the West Indies – Mahela Jayawardena thinks that if the country intends to make an impression at this year's tournament they must concentrate on the basics and set up manageable goals in their run of play.
"We will have to raise the home advantage as we have done in the past along with the crowd support that we have at home. We must play with that rhythm rather than thinking 'We have to win this World Cup'. If we get into that mind-set we will be putting ourselves under a lot of pressure, even before we start the World Cup. I have always told the guys let's take one game at a time."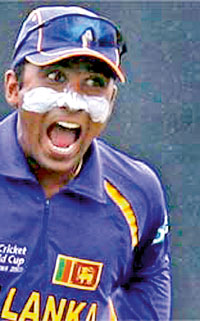 Continuing Mahela added that the first game at the Sooriyawewa Stadium, Hambantota where they launch their bid against Canada on the 20th of February will be crucial. "We should focus on that match on the 20th and from there take one game at a time -- moving game by game. We must focus on little things and try to win during the initial stages. Then if can get into the quarter finals it is only three games only to play for. It is a different format altogether. This is not like last time. We might not play some of the good teams at all this time. We just need to focus on the one-game-at-a-time policy and concentrate on winning.
"It is a great advantage to play at home. We know the conditions. We know what we have and to back it we've got the crowd support, which we always cherish."Describing the three venues, Mahela said that the team was used to the Pallekelle wicket having played various levels of cricket on that strip for the past one-and-a-half years. There the wicket looks very good. It's a settled wicket and we know what to expect. "
However when he had this chat the internationals against the West Indies had not been shifted so he said that they were waiting eagerly to play the matches at the Premadasa Stadium and the Hambantota Stadium. He said, "At Sooriyawewa unfortunately we have not played a single game and we are waiting to play there against the West Indies next week. Then we will get a better idea of how that wicket behaves. We got one game there against Canada. Obviously at Khettarama with the new surface that is something that we have to get used to, we have played a little cricket, but, we still have not used the World Cup strips."
Then talking about the combination, Mahela said that in the fifteen man squad they have a lot variations and a lot of options and in this squad we have three to four different combinations that we could go with according to the different oppositions and the prevailing conditions.
Mahela was positive that Sri Lanka could win the World Cup, but added, "We got a very good chance, but it is a lot of hard work".