The game was hotly contested. It was a CR-Havelocks affair at Longden Place in the 60s. A spectator with a glass in hand in the VIP stands was shouting: "The referee does not know what he is doing," and making a nuisance of himself to all concerned. The spectator went further to say: "Chase him out."
The referee who was at the but-end of this remark and several other cracks from this particular individual walked calmly to the VIP box and handed over the whistle to the surprised man and said tersely: "Go ahead Sir, you take over,". The surprised man sat down meekly and never interfered again, much to the amusement of the spectators.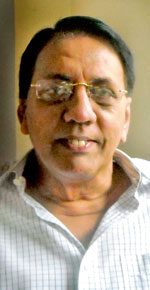 Bentley Barsenbach
Bently Barsenbach was reliving an incident at one of the key rugby games that he officiated in the 60s, as he opened out his heart to the Sunday Times. Very lovingly Bentley Barsenbach opened a small elongated brown, wooden box. It contained a rugby referee's whistle and a set of cards. On close inspection the cards turned out to be the records of the key rugby games that Bentley had officiated. Most of them were of the Bradby Shield matches between Royal and Trinity.
"I still have these as souvenirs," Bentley said as he settled down on his favourite chair at his residence in Railway Avenue, Nugegoda. The place had changed tremendously. Now it is all boxed up with high rise buildings."
I still have my dogs and I have managed to keep a small garden," he said. An outstanding rugby player at St.Peter's and then Havelocks, Bentley manages his own freight forwarding company now. Away from rugby, the game he loves most, he keeps moving. He next plans to visit Australia in April. "A family get-together," he said with longing.
According to Bentley he has 'blown' at many Bradby Shield games. "Now, I think, Dilroy Fernando has overtaken me. At one time I was the referee with the highest number of Bradby games under my belt." It is apparent that he misses those good old rugby days. Talk on rugby and Bentley opened out like a surging dam.
Bentley played rugby for St. Peter's in the 60s with players like Desmond Ephramus and cricket with Ken Duckworth, Clive Inman and Jayantha Fernando. He was also an outstanding athlete at St. Peter's winning the Peterite Junior Championship with the 100, 200 meters and the High Jump being his pet events.
At Havelocks he played under Dr. Hubert Aloysius, Dickie Jayatilleke, Sumanasekera, Conrad Euphramus, Nimal Maralande, Frankie David and Noel Brohier. He ranks Larry Foenander as the best coach he had worked with. "Larry had that killer instinct. Win at all cost. That brought all glory to Havelocks at that time," he said.
After a game Bentley has the habit of mingling with the players. Some players want to know why certain infringements were not blown. Bentley said that he explained patiently. After that rugby banter and camaraderie took over.
Bentley played rugby for St. Peter's and Havelocks and then shifted his interest to 'blowing'. He turned out for St. Peter's when Archibald Perera was coaching the team. "I learnt a lot from Archie," he said. Shifting camp to nearby Havelocks he turned out for the Pink and Brown Panthers at that time the Park Club bristled at the seams.
Bentley was also Treasurer of the Havelocks and was later Treasurer of the SLRFU when Summa Navaratnam was President. He also served as Treasurer when Sri Lanka staged the Rugby Asiad in 1974 where Sri Lanka emerged runners-up with Indrajit Coomaraswamy leading the side. Speaking on the current rugby set up he feels that the correct people are at the helm and he sees no reason why they should fail. "Roshan Goonetilleke knows his rugby and it is good to see the Forces rugby teams as emerging forces," he pointed out.
Bentley is ever willing to speak to the current set of referees if he is invited to do so. "Referees should be fit and well versed with the latest laws of the game. The whistle does the talking. They have to read the game and they should be disciplined on and off the field."
As an afterthought he added: "Remember no one is perfect and in the same way referees also do make mistakes." He also feels that the public should be educated in the game and foreign exposure is very important to rugby players if they are to improve.