There is a wealth of rich historical material from the Dutch period which has hitherto not been researched by many historians. It is to facilitate this task that Lennart Bes, a researcher at the National Archives of Netherlands is making an effort to place on record a volume of material related to the 17th and 18th Century period when the Dutch settled all over the world, especially in Asia, in his worldwide catalogue; 'Dutch Sources On South Asia'.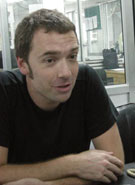 Lennart Bes. Pic by Athula Devapriya
"There is wonderful material such as church records, maps, drawings left from that period in many countries. These not only concern the Dutch but also highlight historical developments of a country," said Lennart Bes, who was on a 11-day visit here to gather information from Sri Lanka.
With two volumes of the catalogue on 'Dutch sources of India and Ceylon kept in Netherlands' already published, the third volume that Lennart is currently working on deals with the Dutch resources on India and Ceylon kept outside the Netherlands, he says. A private project, Lennart undertook this ten years ago with some academics in the field.
As a part of the tour Lennart has travelled to the headquarters of Dutch East India Company in Jakarta before coming to Colombo to gather information from what he describes as 'interesting collections' at the National Archives, Colombo National Museum, Survey General's Department etc.
"The former Dutch Reformed Church office in Wellawatte (now known as the Christian Reformed Church) still has old registers of births, marriages and deaths of Dutch Christians who lived in Galle in the 17th and 18th century. I was able to find lot of details about the Dutch administration from the National Archives," he says.
Citing an example Lennart says he found large volumes of diary entries describing inspection tours undertaken by Dutch Governors of Ceylon to cinnamon plantations etc. "These diary entries give details about the places they visited, the retinues that accompanied them etc with interesting drawings and maps," he explained.
"Such resources are also important to trace the historical developments of Sri Lanka as they don't just deal with the Dutch here but are also about Sri Lankans. You can find out a lot of information about the history of Sri Lanka through Dutch resources," he says.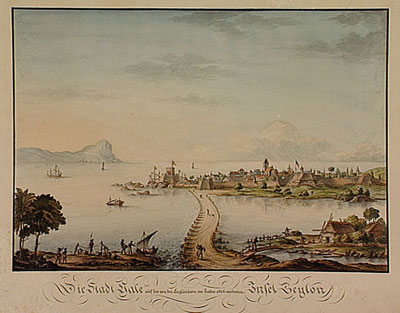 Galle in an old Dutch painting. Pic courtesy lankalibrary.com
Explaining the reason for publishing a catalogue giving only references of sources, Lennart says given the extent of information found it is not possible to document all the details. "There are so much of resources still unexplored. So this catalogue would be a source of encouragement for historians to research on the material. We want the historians to be enthusiastic and make an effort to learn the language and research on original Dutch material for what most of them now do is to refer to British resources due to the language barrier," he says.
The catalogue, produced in English, will also carry descriptions of maps and drawings to motivate historians. The third volume will be completed by late 2011, according to Lennart.
The passionate researcher, Lennart wants to make sure all vital details related to Dutch resources in Sri Lanka are included in the catalogue. He says Burgher families who are living in Sri Lanka today may still have interesting material with them from the Dutch period which have not been made public so far.
"I am interested in getting to know about these details to mention in the catalogue," he said requesting the public to inform him of such information via email: lennart.bes@nationaalarchief.nl.