Heralding the beginning of the 2011 season of the Symphony Orchestra of Sri Lanka (SOSL) on February 12, The New World Concert Series, features an exciting programme. This concert begins with Dvorak's haunting "From the New World" Symphony No 9 , followed by a Flute Concerto by Villani-Cortes featuring flautist Celina Charlier and a grand finale of arias from Faust, La Boheme, La Nozze de Figaro and Giulio Cesare by soprano Tharanga Goonethileke.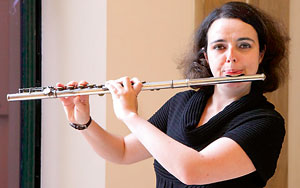 Celina Charlier
Dvorak's 'From the New World Symphony', as it is generally known was composed during his visit to the then "New World "aka the Americas. By far one of his most popular symphonies, it premiered at Carnegie Hall in December of 1893 taking the audience to such emotional heights that there was spontaneous applause after each movement, breaking with concert tradition.
Dvorak who was in the audience had to stand up and acknowledge this great compliment by taking a bow after each movement. Dvorak was intrigued by native American music and though not using those melodies, he wrote original themes embodying the peculiarities of this music as he heard it, using the themes as subjects and developing them using the resources of modern rhythms, counterpoint and orchestral colour. Despite all the nuances and perceived similarity in musical idiom to Afro-American and Native American music it is generally considered that the work has more in common with Dvorak's native folk music of Bohemia. Leonard Bernstein commented that this work was truly multinational in its foundation.
The flute concerto is by Villani-Cortes , the Brazilian musician and composer who is also known for his numerous orchestral arrangements of scores by other composers. This haunting concerto will be performed, for the first time in Sri Lanka by Brazilian flautist Celina Charlier. Thirty-five-year-old Celina has been playing and studying music since the age of ten in San Paulo and then studying in NYU and performing in South America, USA and Europe as soloist and in orchestras. Currently a resident at a leading UK orchestra, she will give the audience Villain-Cortes performed by his fellow national. Tharanga Goonethileke needs little introduction to Sri Lankan audiences after her stunning debut with the SOSL soon after winning the Concerto Competition in 1998.
Apart from many prestigious awards for excellence and achievement, she is also the first Sri Lankan woman to have been accepted to the Julliard Artistic Diploma Programme for Opera Studies.
The Orchestra will be conducted by Guest Conductor Gregory Rose, now so familiar to regular patrons. Mr Rose's easy style and charm comes across to orchestra and audience alike. Tickets are on sale at the SOSL Office, Dickmans Road Colombo 5. Tel: 0112501209.
The Fort comes alive with art
It's Galle Literary Festival time and Galle Fort is alive as people wander around attending talks, workshops and dinners. To compliment the festival a handful of galleries and artists are presenting shows throughout the fort.
Amangalla and Saskia Fernando Gallery have joined forces once again to present 'Script', an exhibition of work by five leading contemporary artists. The show, curated by Saskia Fernando, will consist of paintings, drawings and sculpture by Saskia Pintelon, Anoma Wijewardene, Tilak Samarawickrema, Jagath Ravindra, Kingsley Gunatillake, Chandraguptha Thenuwara and Prageeth Manohansa.
The theme is inspired by the literary festival and attempts to present the connection between these works and poetry, writing and script. Some of these artists already possessed the connection while others worked on new pieces to present during the show. The exhibition will continue until February 28 at the Amangalla, Galle Fort, Galle.
Evening of Kathakali
A Kathakali dance troupe from Kottakal, Kerala put on a scintillating show at the Kularatne Hall, Ananda College in honour of India's 62nd Independence Day celebrations.
The performance by P.S.V. Natyasangam was titled 'Nalacharitam' and depicted the honeymoon of King Nala and Queen Damayanthi, who married against all odds. Kathakali, the classical dance which evolved as theatre that presents stories in dramatic form is always to music with the dialogue conveyed through gestures- mudras. The troupe which also toured Matara will perform today at the Jaffna University auditorium at 6.30 p.m.
Yolande back again for concert
Music lovers have something to look forward to in February. Jazz great Yolande Bavan returns to Sri Lanka for a one-off concert at the Lionel Wendt with Dinuk Wijeratne on piano on February 22 at 7. 30 p.m.
Christopher Prins on drums and Patrick Bleakley on bass will accompany them. The concert will be in aid of the Sunshine Charity Day Care Centre, Sambalthivu, Trincomalee for children affected by conflict and poverty and the Multiple Sclerosis Association of Lanka (MSAL) that provides support to MS patients and creates awareness of the illness.
Tickets priced at Rs. 4000, Rs. 3000 and Rs. 1500, balcony Rs. 1000 will be available from February 5. Contact: Jehan 0777-775159 or Rukshan 0779-131163 for more details.
Love Letters takes us on a poignant journey back in time
Timed to coincide with the Valentine's Day spirit, A.R. Gurney's Pulitzer Prize nominated play "Love Letters" will go on the boards of the British School auditorium on February 12 and 13.
Veteran actors Mohamed (Adam) Adamaly who plays Andy and Tracy Holsinger who plays Melissa take the stage in this production of Love Letters presented by the Performing Arts Company (PAC). PAC was established in 1994 as an amateur theatre production group by siblings Nafeesa K. Amiruddeen and Mohamed Adamaly. This production is produced by Nadira Adamaly.
"Love Letters" seems a simple enough play, but it carries a poignant and touching love story. The plot revolves around Melissa Gardner and Andrew Makepeace Ladd III, childhood friends whose enduring and all encompassing friendship spans almost 60 years of writing letters, notes and messages to each other. Through their letters to each other Melissa and Andrew take the audience on a journey - a journey through their emotions and to a time when people still wrote and posted letters and waited for a reply to arrive.
Love Letters is also a powerful reminder of how we strive to have at least one person in our lives with whom we can truly be ourselves - devoid of all pretence and disguise; the one person to whom we can reveal the truth about our actions, motives and intentions and know that we will not be judged by them, and that our friendship will endure them. Melissa and Andy enjoy a friendship just like that. Their letters are funny, poignant, touching. The play itself makes you long for such a friend in your life too. Essentially then, Love Letters is an evening of theatre which focuses on one of the most powerful of human traits-- our ability to communicate.
Proceeds of the play will go to the Colombo Taprobane Round Table 3 to their internationally recognized community service project, Kids off the Street, awarded as one of the best projects in Round Table Asia region. NDB Privilege Banking is the main sponsor for the production. Tickets are available online at www.ticketslk.com