There "sits" an intricately-carved table on a pedestal very close to the door of the Independence Memorial Museum in the belly of the imposing structure with lions and all at Independence Square.
Neatly sculpted onto the table-top on all four sides is 'ks' with 'o', 'y' and 'i' going down the side, leaving the viewer intrigued as Sri Lanka celebrates its 63rd Independence Day on February 4.
This was part of the 'D.S. Collection' donated from the Botale Walauwwa to the National Museum, explains Museum Keeper Kumarasinghe Thennegedera, adding that it was later brought to the Independence Memorial Museum. The collection at the National Museum gives a glimpse into the life and times of the Father of the Nation, D.S. Senanayake who became the first Prime Minister of independent Ceylon.
What we have heard is that all the paperwork with regard to the Declaration of Independence was done on this table, says Mr. Thennegedera. The mystery, however, deepens, for just above this table on the wall panel portraying copies of the photographs and documents on this epoch-making event is the picture, right next to the King's Message to the People of Ceylon', of the signing of the Declaration of the Independence Agreement.
While the signatories are Sir Henry Monck-Mason Moore, Governor of Ceylon and D.S. Senanayake, Prime Minister, wielding his pen, the table on which this historic document is being signed bears no resemblance to the other. It looks a taller and wider table than the short, square one with the Sinhala letters for independence carved on it. Then what is this table? Will history hide from Sri Lankans what it was meant for?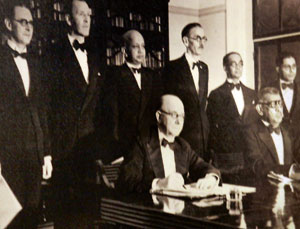 The picture that shows the signing of the Declaration of the Independence Agreement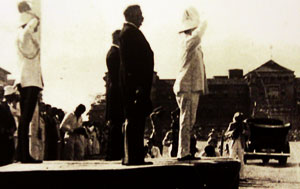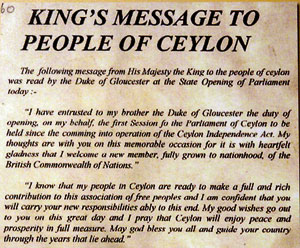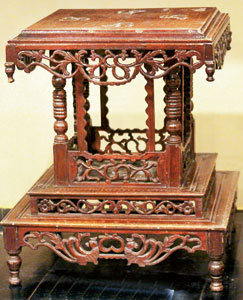 The table in question. Pix by M.A. Pushpa Kumara