The saffron robe was a bright spot of colour in the sombre iron-barred environs. Ten-year-old Sujatha Thera sat in the front row to collect his scholarship but he was also bursting with excitement at the thought of seeing his father.
His father is behind bars serving a life term and like the other children present there that Sunday, Sujatha Thera lacks the support of a parent. It is to even partially fill this void that the Friends of Prisoners' Children granted 300 scholarships for the children of prisoners who have been sentenced to long term imprisonment.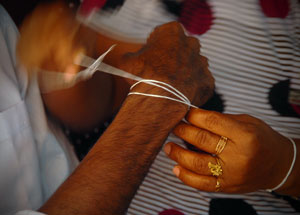 Religious and cultural events were held to mark the occassion
The event was held in Welikada Prison and the children around 10-18 years of age came with a parent or a guardian to collect their monthly scholarship of Rs.1000.
Sujatha Thera said that his mother had picked him up from the temple in the morning to come to the prison. Sujatha Thera had been three when his father was imprisoned for a murder in 2003. The sentence has been reduced to a life-time imprisonment.
"Even my father had wanted to be ordained as a monk when he was young but his parents didn't let him. So, when I said that I want to become a monk, my mother gave permission," he said.
The scholarship holders are chosen by the Prison Welfare Committee. Sulochana Dissanayake from the Friends of Prisoners' Children said that they ask for an evaluation report from the principal of the school the child is studying in and follow up to confirm that the child is attending school and keen on his/her studies.
Samara from Dematagoda said that her father too is serving a life term and her mother had started working as a labourer to provide for her and her two sisters. Pathum had come from Batapola to visit his father. "I miss him a lot. I cried a lot when he was taken away," he said.
A few precious hours may be all these children will have with their fathers but this means the world to them.

(Names have been changed to protect identities)