On a train ride from Rome to Milan some three decades ago, two American undergraduates met a young Sri Lankan architect and fell into conversation. He showed them his portfolio of line drawings and impressed, they promised to have them published in the Chicago Review, the literary magazine they were both associate editors of. True to their word, the June 1977 issue of the Chicago Review carried the sketches of Tilak Samarawickrema.
That was an early introduction to Sri Lanka that Alina L. Romanowski, one of the young women recollects well. The then History undergrad of the University of Chicago is now the Deputy Assistant Secretary for Academic Programs in the US State Department's Bureau of Educational and Cultural Affairs (ECA) and was making her first trip to the island to attend a regional Fulbright seminar held in Colombo this week.
Romanowski took up her current post in May 2009 and prior to that was Deputy Assistant Secretary for Professional and Cultural Exchanges, in fact moving to the State Department with the brief of launching a new office to oversee the President's Middle East Partnership Initiative.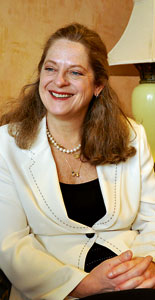 Alina L. Romanowski. Pic by Gemunu Wellage
Interestingly she spent a decade in the CIA serving as an intelligence analyst on the Near East and South Asia region. Her subsequent posting was to the Defense Department where too over 14 years, she held several key posts, among them principal advisor to the Secretary of Defense on all matters relating to the Near East and South Asia region.
Awards and citations have followed her throughout her career. Notable among them, the CIA's Exceptional Performance Award, the Presidential Distinguished Rank award for Senior Executive Service in 2001 and the Presidential Meritorious Rank Award for Senior Executive Service in 1999 and 2008.
She also received Secretary of Defense Meritorious Civilian Service Awards for her contributions during Operations Desert Shield and Desert Storm. But these are areas she is clearly not inclined to comment on. "At the time I was at the Defense Department and we were involved in military operations in the Persian Gulf and there were awards given for those who had creative ideas," she says.
It may seem like a drastic change for an intelligence analyst to move to more prosaic areas such as education but she doesn't see it that way. "It was not such a big shift as you might think. As someone who did their graduate and undergraduate studies in history and international relations, education and international exchanges and cultural understanding is a very important part of foreign policy and international relations and so while I may have had experience in what I might call the harder side, at the end of the day it's the people-to-people relationships and contacts, networks and strong collaboration that really bring good relations between the US and other countries," she says.
One of the initiatives she began is an exchange programme between military professionals in the US and Middle East. "It is very important to understand how people can come together to deepen understanding and collaborate not only on solving bilateral issues, but regional, international and global issues and that's what we're all in the business for," she comments.
This involvement in launching new efforts is clearly the challenge she relishes. "That's what's exciting. Launching new initiatives is the creative part of anyone's profession. Launching programmmes and seeing them continue."
The Fulbright programme that has brought her to Lanka she is more than happy to talk about. "It was started in 1946, over 60 years ago by a very prescient visionary man Senator William Fulbright who understood that one of the best ways to understand each other was really by spending time in each others' countries, studying and having more than just a few days to experience each others' cultures and people. One of the reasons it has been around for so long is that the need to deepen understanding between the US and other countries is as relevant today as it was 60 years ago," she says.
She places value on the fact that it has also been a very important way in which they have been able to reach the non-elite and to give students and scholars an opportunity to come to the US and experience the country through an academic and professional exchange opportunity. "Even though you have technology, you have the Internet, you have mass communciation 24/7, at the end of the day, you still need to sit next to someone and spend time in someone else's country to understand the rich diversity and culture," she adds.
The programme has also strengthened ties between educational institutions not just in scholarly research but bringing in some cases, the very first contact between a university in a country and an American university, she adds.
Will the current global economic downturn have an impact on funding? "President Obama and Secretary Clinton are very committed to the Fulbright programme and to academic exchanges and have made it very clear that these are programmes that they continue to support. The advantage of the Fulbright programme in many respects is that it is a partnership with other countries - it is a bi-national programme. We hope that in times where there are more constraints on budgets both in the US and elsewhere, that this partnership continues to serve bi-national interests of both the US and the host countries. So we look for solid commitments both from our partners and we appreciate that support that we do get," she says.
"We don't see a cutback right now. We see the support for the programme to be solid both from President Obama and Secretary Clinton for the coming year. It also has a lot of support from Congress and I think our members of Congress also see the importance and the relevance of the programme that Senator Fulbright started," she reaffirms.
New areas of focus have emerged in the Fulbright, she points out, adding that because in so many countries the Fulbright programme is into partnership, it is also a partnership in terms of understanding the challenges and the issues the two countries and the world and the region need to address, issues like climate change, food security, conflict resolution, technology and science. The cultural exchange programmes have also been expanding, she says.
Romanowski also mentions the other programme that has expanded significantly in this region - the English teaching assistant programme, which was recently introduced to Sri Lanka. "This has given young American recent graduates the opportunity to visit parts of the world they normally wouldn't have even dreamt of travelling to and brought an English resource to countries where a population of students may be speaking the language, but the ability to have someone who is a native speaker and who can engage at the same age group is really invaluable,' she affirms.
On the subject of Sri Lankan students who look to the US for undergraduate and postgraduate studies, but find the cost constraints and visa regulations a major deterrent, she says that they are still struggling with some misperceptions, but is categorical that the visa challenges have been turned around. "US Embassies are very open in informing students how long it takes to apply for a visa. We have been looking at trends and generally speaking, 90 per cent of students applying for a visa are coming in. It is a perception that is there but students who are able and capable of studying in the US do have an opportunity to do that."
There have been about 3000 students coming to the US from Sri Lanka and we would like to see those numbers increase, she says, urging interested students to use the EducationUSA facility to explore the study and scholarship opportunities. "The advisors (sometimes located at Fulbright offices) are very skilled in helping students understand what opportunities best fit them and their academic interest and maybe their cultural interest in certain parts of the US and where they can connect those." Responding to a question on the brain drain that plagues developing countries, she believes it is important that students who do study abroad remain committed to returning to their countries; In this day and age, we have to have brain exchange not so much brain drain, she says.
The South Central Asia and Central Asia Fulbright Meeting held in Colombo from January 25-28 she views as very important - in the last years, the number of Fulbright scholars and students to and from the region increased by 30 per cent. "We do these regional conferences specifically to take stock of the programmes in the region, to bring the partners together to share best practices. Some things that work in some countries could possibly be adapted slightly and could work in other countries.
It's an important way to build our educational ties and work together. We have learnt some lessons on how to make these more effective and everyone should have the benefit of those lessons learned." ncidentally, two of the largest Fulbright programmes are in the region, the Fulbright in Pakistan and the US Scholars programme in India.
Education, she sees as a key area that the US and Sri Lanka can work on in partnership. That's an area where we can look to the future, deepen it and strengthen it. There are many areas where the government is looking to create stronger partnerships – there is huge emphasis on English, on economic development. Your government is looking at different models, higher educational institutes and the US could be a very strong partner in charting some new areas of co-operation, she says.
It may be her first visit but for this dynamic State Department official, Sri Lanka has been under her radar in varying degrees of intensity, she smiles. That it goes back to a brief meeting more than 30 years ago with a Sri Lankan is quite intriguing.
"I was very touched when the author (Samarawickrema mentions the incident in his book 'Ink of Lanka' released last year) reconnected with me. I did remember that train ride into Milan and using his drawings in the Chicago Review. The world is very small."