It is a cold and rainy Sunday morning and many are braving the weather, umbrellas in hand, to devote a Sabbath hour to God.
As they straggle in, the devotions in this place of worship have already begun. The devotions are to Mary, considered the most important human being in the Roman Catholic Church. She is next to the divine Holy Trinity – Father, Son and Holy Spirit – for she was the 'Chosen One', through whom God became Man. She is the mother of Jesus Christ, lovingly called "Our Lady" by millions of Catholics across the globe.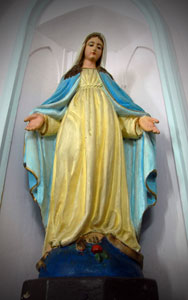 Pride of place: The statue of Mary.
And this 175-year-old church, which celebrates its anniversary on February 5 and 6 has been set up in her name. Few who pass along Galle Road looking at the beautiful façade of this building beyond an avenue of palms would know the humble beginnings of St. Mary's Church, Dehiwela set in the dim mists of time.
The miraculous story that has been handed down from generation to generation is about Mary herself and it is with wonderment that people pay homage to her statue which has pride of place. It was way back in 1880 that the cadjan structure that took the place of the old church in the interim before the new building was constructed went up in smoke.
The tongues of flame engulfed and consumed everything within, except just one item……….the wooden statue of Our Lady made of kohomba (margosa). This is the statue venerated and carried in procession along the streets of Dehiwela even today during the month of May dedicated to her.
It was long before the fire, 46 years to be exact, on September 13, 1834, that six Catholics from the congregation of St. Sylvester's Church, Mount Lavinia (now known as St. Anthony's) embarked on a search for a property to build a new church. The pioneers were Malimage Phillipu Fernando, Mututantrige Stephen Fernando, M. Lucas Fernando, Sylvester Fernando, Gordianu Fernando and Badana Singh Singhanangalage Nicholas Fernando. Meeting up with seven Catholic families in the fishing hamlet of Dehiwela, their mission was accomplished when Muhandiram B. Bastian Mendis gifted them half-an-acre of land.
February 4th of the following year (1835), which would become an auspicious day for Sri Lanka more than a century later with the granting of Independence on this very day, the Church dedicated to Our Lady of Good Voyage was blessed by the then Vicar-General Monsignor Rosario Diaz. The name may have come about due to the close links the people living in the area had with the sea.
Two years later on February 2, three Bharatha traders, Morais Pulle, Jusey Maria and Caithan Pulle, engaged in business at Dehiwela gifted the statue of Our Lady brought all the way from Tuticorin in South India.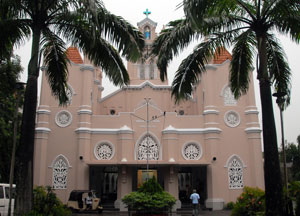 The beautiful facade of the church. Pix by Sanka Vidanagama
By now the flock had expanded and Fr. J.M. Maver had decided to pull down the church which was too small to accommodate them and build a new one, holding services in a cadjan hut. The major hurdle delaying construction work being the lack of funds, a loan for the princely sum of Rs. 1,750 at 12% interest had been obtained by Sattamiralalage Don Marthinu Perera, Balapuwaduge Jusey Mendis, Kottagodage Porolis Perera, pioneer Badana Singhanangalage Nicholas Fernando and Wattutantrige Timothy Fernando by mortgaging their possessions to Isaac Perera Wijeratna Jayawardena by Deed No. 6812 attested on September 17, 1881. Later, before his death Isaac had cancelled the loan and interest, releasing the mortgagers from their bond.
The rest, of course, is history: The newly-built-church being dedicated to Our Lady of The Purification and blessed by the Vicar Apostolic of Colombo Bishop Clement Pagnani in 1883 and Dehiwela becoming a stand-alone parish in 1908.
For 78-year-old Anton Wilson who has been a parishioner for 53 years the church is unique because it has a character of its own – a character of caring and sharing among a community of people motivated by the love of God.
"These are people who realize that there is more in what we have in common than those on which we differ. We are not dogmatic. We are also unique in being blessed with pastors who have each in his own way left an indelible mark on the parish. The focus of the parish has been its devotion to the Eucharist and the Blessed Mother it is dedicated to," he says.
When asked about a special moment in the parish, while conceding that the "memories are dimmed", Mr. Wilson hastens to add that what has hit him forcefully is the spirit of ecumenism which came alive after Vatican II . "Although we may not see eye to eye in dogma, we as fellow-Christians could stand shoulder to shoulder on matters of social responsibility and the economic needs of the people," he explains.
Born and bred at Dehiwela, Sheila Fernando, 78, not only received spiritual enlightenment from the parish but also gave her mite to it by serving for 25 years at St. Mary's College, set up under this church. "I was a teacher, Vice Principal and also Acting Principal," says Sheila who is retired now. "I left the parish but came back just before my marriage," says Sheila who not only consecrated her marriage on December 26, 1956 but also baptized her three children here.
Many are the cherished memories for 73-year-old Ellsworth de Andrado who as an 11-year-old, joined Boys' Town which was set up in Dehiwela to educate the young on how to behave in church as well as manage their lives. He was an altar-server, chorister and engaged in sacristy work.
"Every Saturday there was a dialogue mass in Latin and its influence was so great that many joined the priesthood from the parish," says Ellsworth. He recalls with regret that around that time some boys played a prank by exploding a cracker during a meeting, resulting in the Parish Priest Fr. Cyril Peiris taking disciplinary action by closing down Boys' Town.
| | | | |
| --- | --- | --- | --- |
| | | | |
| Parish Priest Fr. Marcus Ferdinandez | Sheila Fernando | Anton Wilson | Ellsworth de Andrado |
It was also on the same premises in a cadjan hut that he as a Peterite studied for awhile during the war when St. Peter's College in Bambalapitiya was moved there, he says, smilingly going down memory lane to how they would make holes in the wall and get mouth-watering veralu from hawkers outside.
He was also a member of the Dehiwela Catholic Association. In those days, the Sunday masses were held only in the morning at 5.30 and 8, says Ellsworth, explaining that there were no evening masses. After the morning masses the boys would engage in sports, play carom, bridge or cards.
The hall in the church premises had a fridge and the only liquor that could be stored there was six bottles of beer, the balance being soft drinks. "We played, we chatted. Some had a beer and by 10.30 in the morning we were back home," he reminisces.
But the grapevine carried other stories to the then Cardinal Thomas Cooray that "unsavoury things were happening" and from the pulpit the Parish Priest Fr. Fernandopulle announced the closure of the association. "This was a major loss for Dehiwela," he says, pointing out that it may have resulted in the inability to keep the youth within the fold.
These setbacks notwithstanding, St. Mary's revolves around the motto instilled in the minds of its people by a pillar of the church in early times, Fr. E. Romauld Fernando, OMI, says Ellsworth, a view echoed by many.
The motto is simple – "This is my church…..it gives me life, forms me and is the constant reminder that Jesus is with me. Looking after it is my business." This seems to be the secret how St. Mary's Church has grown from the simple structure it was 175 years ago to what it is now.
Preparations in full steam
All preparations are underway to celebrate the 175th jubilee, says Parish Priest Fr. Marcus Ferdinandez under whose staff comes 2,000 families from the areas of Dehiwela, Nedimala and Attidiya. There is a fine mix of Sinhala, Tamil and Burgher communities, says Fr. Marcus who came here with trepidation about the limited time he had before the jubilee.
Things have fallen into place, he says with people rallying round not only for the external preparations such as colour-washing the church but also the more important spiritual renewal which got underway with the guidance of a team of Redemptorist priests.
The jubilee celebrations are as follows:
February 5 (Saturday): 6.45 p.m. -- Service of Vespers followed by procession, with the Bishop of Ratnapura Rt. Rev. Dr. Cletus Perera, OSB, as Chief Celebrant. Launch of the Jubilee Souvenir
February 6 (Sunday): 8 a.m. -- Festive High Mass (Trilingual). The Chief Celebrant will be Cardinal Malcolm Ranjith, Archbishop of Colombo. The Jubilee Stamp will be issued thereafter followed by fellowship.
Event that put Dehiwela on the map
In the important Year of the Eucharist declared by the Catholic Church for 2011, it is timely that St. Mary's Church, Dehiwela is celebrating its jubilee, for on July 16, 1945 this very church organized the first Inter Parochial Eucharistic Rally in Sri Lanka drawing around 40,000 people.
Then Ellsworth de Andrado was seven years old, running around as a "Flower Boy" distributing jasmines to all who participated.
Recalling this event which is said to have "put Dehiwela on the map", Ellsworth says that a stadium was erected at Fraser Park. "The procession went down my road, Frazer Avenue to the stadium at the bottom close to the railway line," he adds.