Puzzlepart, an international SharePoint product development company and consultancy has selected Sri Lanka as the destination to strengthen its software development team. Based in Oslo, Norway, Puzzlepart is a company with an ambition to be a game changer in the enterprise software industry. The company delivers innovative products for the Microsoft platform focusing especially on Microsoft SharePoint.
Puzzlepart looked for a company to be an extended arm to strengthen product development and service delivery and they found Eurocenter DDC in Sri Lanka to be an ideal fit. Eurocenter DDC has extensive experience in building products for ISV's in Europe. Following a successful pilot, Puzzlepart has built a dedicated team in Sri Lanka. Today Puzzlepart has an agile organization across two continents. "We were very impressed by the efficiency, competence and world class professionalism with which Eurocenter handled our initial pilot project" said Andreas Eide, CEO of Puzzlepart.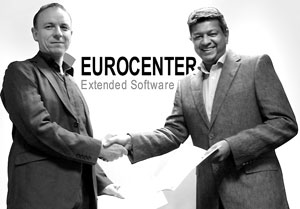 Andreas Eide, CEO of Puzzlepart exchanging agreements with Mano Sekaram, CEO of Eurocenter DDC
He added "It was nice to meet a company and people in Sri Lanka who had the skill-set, hands-on experience and the capacity to deliver beyond our expectations, which was exactly what we were seeking. With a fast project turnaround timeframe and high level of competency we are now more than assured that we found the ideal company to work with in Eurocenter DDC".
"Puzzlepart's partnership with Eurocenter is yet another testimony to our capability and efficiency to deliver high quality software services to global software companies" stated Mano Sekaram, CEO Eurocenter DDC, who added that it also endorses that "Sri Lanka is fast becoming a destination of choice to global companies for software services".
Eurocenter DDC is a CMMi Level 3, ISO 9001:2008 and Microsoft Gold Certified software engineering company with offices in Colombo, Sri Lanka and Oslo, Norway. Having earned high international recognition since its inception in 2000, Eurocenter DDC delivers high-end, custom engineered, software engineering services to its global clientele and has established a strong foundation of customers within multiple businesses and cultural environments.
While its prime focus is providing Software Engineering services to International Software Product Development Companies, Eurocenter concentrates on catering specifically to the ISV market. As a niche supplier the company understands the issues related to ISVs in the global software industry. To date, Eurocenter DDC has delivered over a hundred Software Development projects to its ever expanding client base in Europe.