BCS, The Chartered Institute for IT is pleased to announce that the University Grants Commission (UGC) is now accepting the Post Graduate Diploma (PGD) in IT as an entry qualification for various Masters Degree programmes in IT*.
BCS Higher Education Qualifications (HEQ's) are already considered to be the gold standard for internationally recognised IT qualifications, providing a clear route for further study for those looking to advance their career or undertake qualifications. The qualifications are the equivalent to a UK honours degree, with examinations held twice a year in April and October conducted by the British Council, at centers in Colombo and Kandy.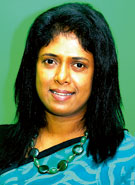 Mrs Niranjala Weerasinghe, Regional Manager for BCS
BCS, The Chartered Institute for IT is pleased to announce that students in the North of the country are now able to sit the examinations in Jaffna which is facilitated by Advance Technical Institute in Jaffna.
"We are so pleased that students are now able to sit examinations in Jaffna. Now that the war is over students are able to focus on their education and are taking multiple qualifications which will allow them to continue their studies in local or foreign Universities.
"BCS HEQ's are popular amongst students as they provide a gateway to further studies in IT in Sri Lanka and more than 50 Universities in the UK," said Mrs Niranjala Weerasinghe, Regional Manager for BCS, The Chartered Institute for IT in Sri Lanka.
Students can save both time and money by studying for BCS HEQs. Students can save over 60% in course fees compared to the cost of obtaining a degree from a foreign university. The qualifications are also popular due to the convenience of study they offer; BCS HEQ'S are modular so students can choose the order in which they complete their studies. Some students do either the Certificate and Diploma levels, or the Diploma and PGD Levels, in one sitting, greatly reducing the time needed to complete the entire programme.
BCS registered Course Providers in Sri Lanka provide guidance/tuition to thousands of students taking these qualifications every year. These are ESOFT, Matrix, IDM, CINEC Campus, IIS City Campus in Jaffna, Informatics Institute of IT, Infotec International Institute of Information Technology - Kandy, London Tec, International Academy of Higher Studies, Trinity College Kandy.
BCS, The Chartered Institute for IT, is a world-class organisation for IT. With over 70,000 members world wide, the Institute delivers a range of professional development tools for practitioners and employees and a range of widely recognised qualifications.
The Registration deadline for the upcoming April examination is 15th January 2011. You may contact the BCS Regional office on 011 4736741/ 011 4891081 /011 2698566/ 0112691503 for more information or simply visit www.bcs.org/heq *The Professional Graduate Diploma (PGD) in IT with Project now qualifies students for entry onto a Master's degree programme in Computer Science.