Etisalat gifted prepaid SIMs to world-renowned personality and President of the FIA (Federation Internationale de l'Automobile) Jean Todt and his wife, Michelle Yeoh, during their recent visit to Sri Lanka.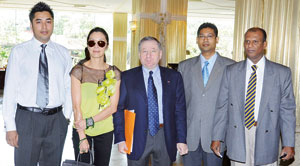 From left: Assistant Brand Manager – Postpaid Amila Pathirana, wife of Jean Todt and internally acclaimed actress Michelle Yeoh, FIA President Jean Totd, Etisalat Regional Business Manager Niroshan Wijesundara and Automobile Association of Ceylon Executive Committee Member Anil Peiris
Todt boasts previous posts of Director of Racing Activities for Peugeot, GM of the Ferrari Racing Division and 'CEO of Ferrari SpA. He also holds the titles of Commendatore della Republica Italiana, Dato Seri for Malasiya (following his knighthood by the Malaysian King) and Grand Officier de la Legion d'Honneur in France.
Yeoh, an internationally-acclaimed actress, rose to fame as the enticing 'Bond Girl' in 'Tomorrow Never Dies' (James Bond) followed by the multiple Academy Award winning 'Crouching Tiger, Hidden Dragon' and the poignant 'Memoirs of a Geisha'.
Being one of Sri Lanka's leading mobile operators, Etisalat was glad to provide connectivity to persons of this stature.