The Government's e-Sri Lanka initiative has made the lives of the people more comfortable to such an extent that many countries have adopted the Sri Lankan model in their national ICT development plans.
This was stated by ICT Agency of Sri Lanka (ICTA) CEO Reshan Dewapura at the e-Launch 2011 organised by the Institute of Chartered Accountants of Sri Lanka (ICASL) at ICASL with ICTA as the strategic partner recently.
Corroborating his statement at the event graced by ICTA Chairman Prof. P. W. Epasinghe, as Chief Guest and Sri Jayawardenepura University Faculty of Management Studies and Commerce Dean Dr. Sampath Amaratunga as Guest of Honour, Dewapura said: "As Sri Lanka has shown significant development in the area of ICT, some countries already view Sri Lanka as the regional knowledge hub as envisaged in the Mahinda Chintana Vision for the Future - the Government's policy statement.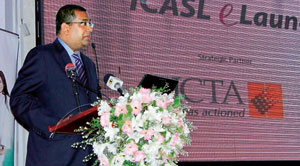 ICTA CEO Reshan Dewapura during his address at the e-Launch 2011 at which, ICT enabled products including -Multi Media Learning Guides (MMLG), On-line Course Management System (OCMS), Library System and the Student and Member Management System (SMMS) and Professional Diploma in Computer Based Accounting were launched
Bangladesh, Maldives, Nepal and even India (for a particular project) in the region, Cambodia, Lao PDR in Asia, have sought some level of guidance / expertise from us based on what we have already done. A number of countries in the African continent have modelled their National ICT Development Plans on e-Sri Lanka and the success of it".
During his address as Special Guest at the event in which the ICTA -initiated e-Swabhimani award winning project 'On-line Course Management System (OCMS)' was also launched, Dewapura pinpointed reasons for the acclaim of the Sri Lankan model: "(1) receiving global and regional awards on a regular basis, (2) Hosting prestigious international/regional ICT events in Sri Lanka, and (3) holding posts in International bodies, in the field of ICT has also contributed tremendously to this".
ICTA CEO attested that in its endeavour to fulfil the President's pledge of making the benefits of ICT accrue to the people, ICTA was pleased to partner with other professions where ICT is a key element: "Like in most other professions, ICT is a key element in the accounting profession, and also the accounting profession is also key to the ICT Industry especially in Sri Lanka. I think therefore, it is obvious to see why the ICT agency is partnering in providing support to initiatives such as these. Our vision is to take the benefits if ICT to everyone and use ICT as a tool to drive development. We see these efforts as an integral part of our e-development agenda, and they have great synergies in contributing to the goals of e-Sri Lanka, our pioneering ICT driven National Development Initiative".
In the backdrop of students, teachers and parents looking for courses of studies and professions for the future generation especially at the beginning of a new year ICTA CEO underlined the vast vistas available in ICT and in particular the IT-BPO sector: "Now, one of the areas I mentioned earlier is the growth of the ICT Industry, which is where there is a significant connection with the accounting profession.
The Sri Lankan IT/BPO Industry has grown tremendously in the last five years. In terms of export revenue / foreign exchange earnings it has moved from a mere USD 60m to a staggering USD 375m industry, and now is the fifth largest foreign exchange earner in the country. The future target for this industry is to reach USD 1 billion by 2015 and USD 2 billion by 2020, and at some point become the largest foreign exchange earner for the country.
ICTA CEO elaborating on the close link between IT/BPO and accountancy cited apt sources: "The key area in this BPO arena, for which Sri Lanka has earned a reputation for itself, is in Financial and Accounting Out-sourcing (FAO).
Tholons Global Services in its report as far back as 2008, described Sri Lanka as a 'Centre of Excellence' in Financial and Accounting Out-Sourcing. The famous US Daily, The New York Times in December last year, ran an article titled "Sri Lankan Accountants Lure Global Outsourcers" high-lighting the maturity and the skills of the Sri Lankan Financial and Accounting Sector"
Motivating the e-Launch 2011 audience to another aspect in Sri Lanka becoming the knowledge hub and wonder of Asia ICTA CEO concluded his delivery by saying: "I will leave you with an assurance that I CTA will continue, to contribute and to partner, in nationally important activities such as these, and hope that one day, we will be known as, among other things - this is an idea that was mooted in the New York Times article itself - hope that we'll be known as "Sri Lanka, Chartered Accountants to the World".