Sri Lanka's fast expanding traffic population, exacerbated by the relaxation of controls on imports, is causing a logjam in the city of Colombo.
This week, believe it or not, it took a vehicle one hour to pass a point along Dr. N.M.Perera Mawatha (former Baseline Road) . The traffic jam extended from the Borella junction to the Orugodawatte junction in Dematagoda. Making the problem worse is the use of the road by 40 foot long container carriers and lorries.
There was panic among travellers proceeding to the airport. A van driver said that one of his customers was lucky to arrive at the Bandaranaike International Airport (BIA) just minutes before the airline counter closed.
Sub inspector Nimal Jayaratna, Officer in charge of Traffic at the Dematagoda Police said the traffic flow along this road had been studied for several years. However, no solution was forthcoming. He said particularly during rush hours, the roads are badly clogged. " We are doing our best to manage the traffic under existing rules," he said.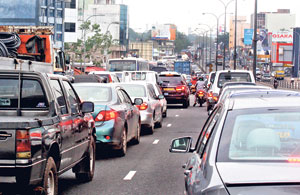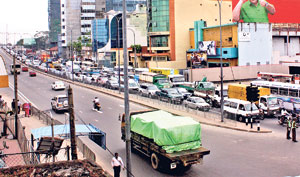 Baseline Road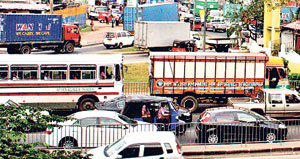 Orugodawatta