Imagine this: One of the top politicians of your country is gunned down by his own bodyguard. Shocking, but not unheard of. Now imagine this: The very next day, the assassin shows up at court and is given a hero's welcome. Supporters shower him with rose petals and put a garland around his neck.
Sounds bizarre? Well, that's exactly what has happened this week in Pakistan.
The killing and its aftermath highlight as never before the fast-growing divide between the country's secular and religious forces. It's a divide that's symbolized by the life and death of Salman Taseer, the slain governor of Punjab province.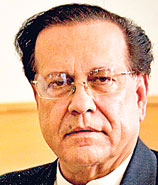 Salmaan Taseer
To understand this divide it's important to know a bit more about Taseer's background. He was the son of an urban intellectual, born the year before the creation of the Islamic Republic of Pakistan in 1947. His political thoughts were forged at his English-style high school in posh Lahore, and then furthered in his time studying accounting in England. Taseer lived and died a Muslim.
But he was also modern, with western views on law and democracy. And it was those views that clashed with a country that has increasingly identified itself as Islamic, shedding the anglicized traditions of its colonized past.
Taseer most recently made news in November last year. He was campaigning against Pakistan's blasphemy law, which makes insulting Islam a crime punishable by death.
When CNN's "Connect the World" last spoke with him on November 23, he said he didn't want to abolish the law. He said he wanted it "changed in such a way that if you insult any prophet, no matter who he is, then that is a criminal offence. But certainly not punishable by death."
And that change, prosecutors say, was reason enough for his bodyguard, a "slave of the Prophet," to pump 26 bullets into the man he was paid to protect. Taseer's argument came to the fore because of the case of Asia Bibi, a Christian woman who was sentenced to death for insulting Islam. According to Taseer, she also epitomized the type of person the blasphemy law has hurt.
"It's a law which gives an excuse to extremists and reactionaries to target weak people and minorities," he explained. "I mean, no big, rich, powerful man has gone in under the blasphemy law. It's only poor people."
It's an argument that Pakistan's elites agree with. But they're in the minority. Renowned journalist Ahmed Rashid attended Taseer's funeral in Lahore on Wednesday, and told CNN that he knew many people who wanted to pay their respects but were scared to come.
"Apart from the killer, nobody's been arrested. There doesn't seem to be any kind of crackdown, and it seems the government is backing off from doing anything. And that, of course, is proving to be very disturbing for liberals and moderates all across Pakistan."
Taseer's family couldn't find a well-known maulvi, or Islamic cleric, to read the funeral prayers. "The government... maulvi refused to do it, even though he was a government servant," Rashid said.
"And then, people went around to the leading mosques, to the leading maulvis, trying to find someone who would read the funeral prayers. They all refused to do so." The message seems to be: shut up, or get shot.
And it's a message disseminated across the country's media. According to the Urdu-language newspaper Jang, leaders of one religious party forbade all their followers to attend funeral prayers for Taseer.
Another Urdu-language daily, Ummat, had this in its editorial: "Salman Taseer made a controversial statement on a religious issue... [he] not only committed contempt of court but also harmed the religious sentiments of the people... There is no doubt that taking law into one's hand is not right. However, similar incidents are possible in reaction."
Compare that to editorials from the leading English dailies. Dawn said "religious indoctrination is feeding the fires of hatred and intolerance" and the Daily Times (of which Taseer was the publisher) said: "If the religious extremists who consider themselves the guardians of the Prophet's honour can go so far as to take the life of someone who opposed man-made laws, then society is heading for anarchy and barbarism."
Why the dichotomy between the two types of media? Ed Husain is the author of "The Islamist," in which he describes how he was seduced by radical Islam as a student. He now works to help other young Muslims avoid the same fate.
"You have a situation where the masses in Pakistan -- very religious, very devoted -- tend to see those who speak out against (people) from the liberal tradition to be, essentially, anti-God, anti-Islamic.
"The vast majority of Pakistanis read the Urdu literature, and they are, then, suspicious of the English-speaking, English-educated, western-connected liberal elite that they see to be representatives -- stooges -- of the west," says Husain. "And this is the fundamental crisis within Pakistan." - Courtesy
CNN
He had business links with Lanka
The assassinated Punjab Governor Salmaan Taseer had links with Sri Lanka as Chairman of one of a stock brokering company. Mr. Taseer was in Colombo to expand business of Lanka Securities Pvt Ltd, a joint venture Stockbroking firm with First Capital Securities Corporation (Pakistan).
Mr. Taseer was the Chairman of the company and had drawn plans to expand the business of the company, according to Chief Operations Manager Wasantha Hewavitharana.
"He was a nice gentleman. We have been dealing with him for several years," he said and added the companies Managing Director Kosala Gamage represented the company at the funeral of Mr. Taseer.
Earlier the Bank of Ceylon and Merchant Bank of Sri Lanka also held shares in the local company which was established in June 1989.