Mounting incidents of crime in the northern Jaffna and Vavuniya districts have prompted Police to advise residents to wear only imitation jewellery and take extra steps to protect their homes. These are among the measures proposed by two senior Police superintendents in leaflets widely disturbed yesterday in the north.
The move comes as Police were taking tough new measures to curb violent incidents in the North. In the past three weeks, at least four murders have been reported in Jaffna. The people have been advised not to leave their door keys hidden under door rugs or flower pots but to have a spare key if another family member needed one and when leaving home, lock the doors properly and inform the neighbours about their departure.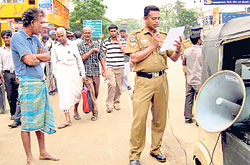 Police in Vavuniya advising residents on safety measures. Pic by Priyantha Hewage
The people have also been asked not to travel alone when wearing gold jewellery as criminals may trick them and rob their jewellery. The people have also been told to beware of strangers or strange vehicles coming to their areas and to note down the numbers and other details.
The leaflet has advised parents not to send children out of their homes alone. The police also advise people to number the valuable goods at home or label them and to do the same for electric equipment, motor bikes and so forth.
The police have also advised the residents to keep their doors and windows closed, even during the day time if there is only one person in the house. At night, they have been advised to make sure the doors and windows are closed and to keep a bulb switched on.
They have been told that if any member of defence forces comes for inspections, they should ask for their official identity cards before opening the door and ensure they are accompanied by a police officer from the area.
Shop owners have been advised to leave a light on outside their shops after their closure and to keep someone inside the shop. The police say the people have a right to protect their lives and property and in such an instance, if the criminal is fleeing, they have a right to take the criminal into custody and then inform the grama niladhari or the police.